ALHAMBRA - ÉVKÖZI TALÁLKOZÓ - March 27-30, 2003.
Committee Meetings in Alhambra

By Klári Vereczky Mális

Members of America's Hungarian Baptist Convention were greeted by Southern California's balmy springtime as they convened in Alhambra from places as far distant as Toronto, Florida, New York and Detroit to formulate plans for the upcoming June convention in Toronto.

They had an opportunity to enjoy ideal California summer weather as members of the local congregation hosted and dined the 17 guests who stayed with various church members.

During the four-day event, appetizing lunches and dinners, as well as delicious Hungarian pastries, were served by members of the Women's Auxiliary, with President Márta Szerényi in charge of the kitchen.

A weekend of pleasant fellowship and camaraderie began on Thursday, March 27, as leaders of America's Hungarian Baptist congregations met to prepare plans and by-laws for the Toronto convention.

The Saturday evening service, well attended by members of the local congregation, heard Dr. Pintér Zoltán of Cleveland speak about Jeremiah the prophet who was a small but dedicated man of God. The Rev. Vadász János of Santa Monica opened the service with prayer.

On Sunday, Dr. Herjeczki Géza of Detroit taught the Sunday school, and the Rev. László Dán of Toronto presented God's message during the Sunday morning worship service. The General Secretary of the Convention, Bro. Szabó István of Chicago, opened the worship with prayer.
Some of the many pictures taken at Alhambra (by Dr. János Szenohradszky).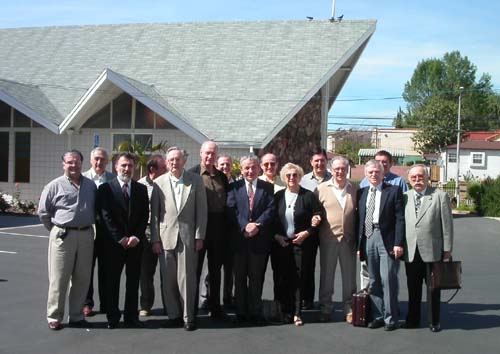 Guests at the church parking lot.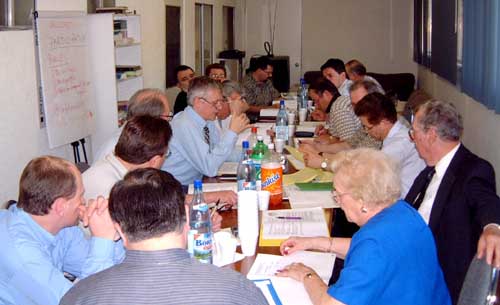 Meeting; Lunch time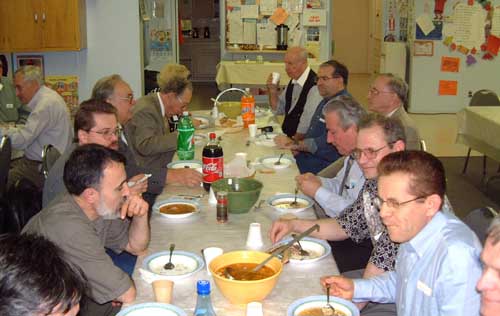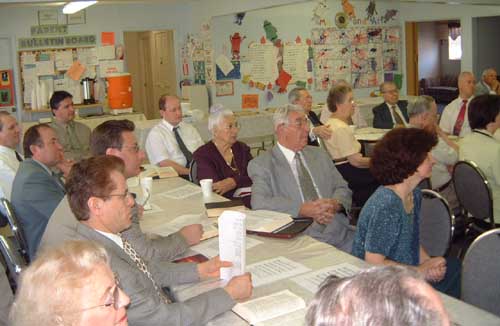 Adult Sunday school class; Children singing on the worship service on Sunday morning.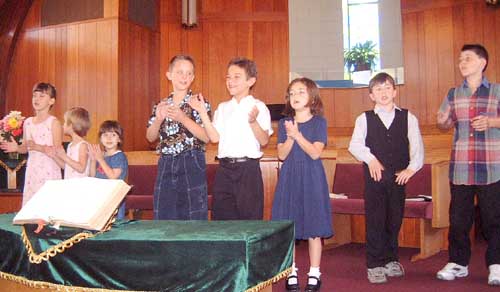 And one more: the writer of this article: Klári and Lidia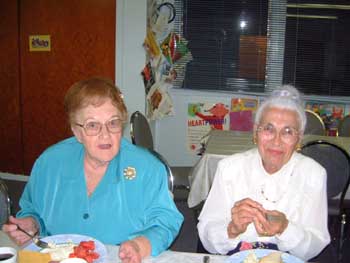 The youthful Alhambra Boys' Band, which performed before services on Saturday and Sunday, was very well received. They have accepted an invitation to perform at the Chicago Youth Convention in May, and the seven-member band is happily making plans for this, their first such trip.

Sunday afternoon weather was also pleasant, and the Men's Circle prepared a tasty outdoor barbecue for the guests. ("Borszéki water" was a specialty served to everyone.)

We regret that Convention President Dr. Kulcsár Sándor had to return to New York early Sunday morning and could not participate in the entire weekend's festivities.

However, the weather and fellowship were so enjoyable it was decided to meet again in Alhambra next summer for another friendly weekend session of the Hungarian Baptist Convention.