Monthly of the Hungarian Baptist Convention of North America
(EvHir-English5 = Issues JULY 2000 - DECEMBER 2000)
DECEMBER, 2000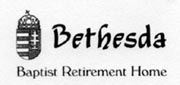 October at Bethesda
The month of October had been a significant one here at Bethesda. But then, every month is significant. We operate our home on a day to day basis because, at our state of life, changes take place so quickly. We are an aged group of people and we give thanks to God each morning because we know not what that day will bring for us. Each morning and each evening is a gift from God. We have our joys, and we have our sorrows and we try to accept each situation with grace.
We are still operating our Home with all rooms full. We do not have any problems in operating at full capacity. Our Home is neat and clean and we try to maintain a family atmosphere. Our meals are good and we have a full schedule of activities for our residents. We care for 21 men and 49 women. This is our family. In addition to own residents, we also have 30 employees. Thus, at times we have to tend to the joys and woes of 100 people. Sometimes this is pleasant and sometimes it is extremely difficult. But with the help of God, we manage. At the present time, we have more people from the Home attending, our worship services than ever before. For this we are thankful.
We also try to keep every one busy with one activity or another. This helps our residents to pass the time of day without boredom. We take our residents out shopping. We take them out to dinner and to Concerts. We have other activities for them here at the Home. This keeps them happy and healthy.
During the month, we had the privilege of hosting Kalman and Anna Marie Dobos, our missionaries from Austria. Our resident and church member enjoyed hearing how the word of God is being proclaimed throughout the far reaches of the world. We as a church body spend the greater part of our income on mission projects. Our missions outreach also extends into the efforts of our Convention since we contribute $1,000.00 each month for their programs. In addition to the above, we gifted our brethren in Chicago $50,000.00 to help purchase a church building. It was a joy for us to help them fulfill a dream of many years. God has blessed us and we are happy to be able to help in the furtherance of the gospel in whatever way we can.
Our Home is still negotiating with possible purchasers. This is a long and complicated process and will take time and energy to affect a sale. We cannot report any positive results as yet, but we are still negotiating. We are awaiting Gods' plans to take effect. As soon as we have something positive to report, we will advise you. In the meantime please continue us in your prayers. Ernest J. Kish

The degrading of Christmas

May we lift Christ high this Christmas season
Satan assaults us every year in varieties of ways during the Christmas season. The very name Christmas bears the name of Christ. Christmas is about Christ. Christmas is Christ: the birth of the Lord Jesus Christ. Christ sent from heaven to earth to live a perfect life as the God-man. Christ - the lamb of God - sent to take away the sins of the world.
But Satan assaults us. It is easy to forget that we are in a spiritual war every day, but we are.
Below are just a few of the methods that Satan uses to attack us during the Christmas season. We name them merely to remind each of us of the spiritual warfare. Guard your heart and may Christ be lifted up, praised, honored and glorified - by the way that we live Christmas.
Satan's assault upon the Christian:
Materialism: It's easy to fall into the trap of excessive spending. Is Jesus glorified when we let our spending get out of hand? Does greater indebtedness bring honor to our Lord? Greater financial bondage can destroy our peace of mind.
Busyness: It seems that every organization, institution, club, work place has a Christmas party, gathering, gift exchange. Generally, there are good intentions behind each one, but ... Recognize that Satan desires to pull you in many directions and tear you away from your relationship with God and with your loved ones.
Family get togethers: Satan can rip and tear as families get together - especially during the Christmas season. Family get togethers can result more in gift exchanges, busyness and eating. Christ can get left out. Santa Claus vs. Jesus Christ. You may offend someone if you even want to read the Christmas story or pray before the meal. Spiritual warfare.
Our quiet time: With the busyness, we can cut corners and neglect our devotional time with the Lord. Satan rejoices.
What is the answer? The short answer is pray and ask God to help you conduct yourself in a way that will please and honor Him. Be careful, however, not to compromise and to allow ungodly standards to prevail. (AFA)
What the Pastor expects of the Congregation

Our Pastors are God

=s messengers within a sinful world.

He has been trained in biblical teachings and philosophy. He is a professional servant of God. As such, he should be respected by all of us. Being Baptist in belief, we all have a right to interpret scriptures as we may think. He also has that same right. We may differ in some respects, but we should be one in our basic understandings and learn to work together with one purpose. That is to spread the word of God to all people. In I Thes. 5:12 we read,

AAnd we beseech you brethren to know them which labor among you and are over you in the Lord, and admonish you.@

Our pastors expect our prayers for them and their families.

The pastor has the same concern for his family that you and I have. He has a family to raise and educate. He has a need for daily sustenance. He is concerned for his congregation and at times becomes discouraged. A warm handshake or a nice comment indicating our concern for him could mean much to him. Our prayers will indicate our regard and concern for his well being.

Our Pastors expect us to live in peace with one another. Dissension among us can affect both the physical and the spiritual life of the church. He expects us to be peacemakers within the congregation. In II Thes. 5:13 we read,

Aand be at peace among yourselves.@ Peace among the members of his congregation will gladden the heart of your pastor.

We should always speak well of our pastor. He is a servant of God and needs to be encouraged in the work that he had chosen as his life

=s work. A kind word will give him reason to work even harder to bring the word of God to his congregation.

Our pastors expect cooperation from the congregation in implementing both spiritual and physical matters within the church. Working as one body can bring much blessings to the overall program of the church. Even if we differ in some of our opinions, if the matter will be beneficial to the work of the Lord, God expects us to do our best.

Finally, our pastors expect a livable wage from their congregation.

The pastor has the same financial responsibilities with raising a family and providing a safe haven for his children as do other members of the congregation. He has medical and dental expenses, transportation expenses and the run of the mill household expenses inherent to raising a family. He is entitled to a reasonable salary. Scripture tells us in Luke 10:7

A...for the laborer is worthy of his hire.@ This is a directive that we as Christians must take to heart. Our pastors deserve our very best effort. If we are caring and concerned about his welfare, it will reflect on the quality of his service to the congregation. It will also broaden our own spirituality in knowing that our pastor and his congregation are working together peacefully as one body in the building of God=s Kingdom here on earth.

Think hard about these matters and let both our pastors and our congregations give due consideration to each of our responsibilities. It is God

=s command that we love one another and to do all things to help one another. Only if we work in peace together can we bring true glory to the God that we Serve. Ernest_J._Kish
FALSE MESSIAHS

There's been a boom in false "messiahs." The number of self-appointed religious saviors has never been greater than today, when more than 1,500 people claim to be an incarnation of Jesus Christ, German missions expert Johannes Reimer told idea, a German publication.

...Biblical prophecy is fulfilling itself, Reimer said. Jesus had prophesied, as recorded in Matthew 24:5, that "many will come in My name, claiming, 'I am the Christ,' and will deceive many," he said. ReligionToday.com

J. S. Bach, Japan & Christianity

Johann Sebastian Bach has struck a chord in Japan. The 18th

century German composer's music is conveying Christian teachings and concepts to a large and growing audience in the Asian nation, where less than 1 percent of the 127 million people belong to a Christian church, First Things magazine reported.

...The nation's elite are drawn to the musical genius, and many have their first contact with Christianity through his music, according to the magazine. As many as 200 Bach choirs have started around the country in 10 years, and organist Masaaki Suzuki founded and conducts the Bach Collegium Japan.

...Many Japanese have lost their allegiance to Buddhism and Shintoism and are attracted to the message of hope and peace they find in Bach's music, according to First Things. It is uncertain how many people actually have converted to Christianity. ReligionToday.com

Fast-food faith

Many Americans are practicing a ABurger King@ or AMcFaith@ religion, searching for a convenient church that lets them Ahave it their way.@ (Cliff Tharp)

IT IS EMPTY! (SMILE!)

After a four-year-old boy told his father that he had a stomachache, the father suggested: "That's because it's empty. You'd feel better if you had something in it." He gave the child a glass of juice.
A couple of days later, the family's pastor came by to visit. The pastor mentioned that he had a bad headache.
The little boy responded: "That's because it's empty. You'd feel better if you had something in it." --Rev Warren Keating
NOVEMBER, 2000

What we expect from our Pastors

Our Pastors are professional people and as such we expect from them to be well versed in biblical teaching and attitudes. They should therefore be in constant study and teach us what God expects of us. In II. Timothy 2:15 we read

AStudy to show thyself approved unto God, a workman that needeth not to be ashamed, rightly dividing the word of truth.@ Thus we expect our pastors to be well versed in scriptural teachings.

Our Pastors should also be understanding of the human problems inherent within his congregation as they reflect the 21st century. Our church people have families to support and a living to earn. This is not always easy and we expect our pastor to understand our problems and to be sympathetic to our needs. His encouragement and his prayers will do much to cement relationships between the pastor and his flock. Thus we will become one flock. In John 10:16 we read,

A...and they shall hear my voice and they shall be one fold and one shepherd.@ Working together, we shall be one.

We expect our pastor to shepherd his flock. Even in the most dire circumstances, we expect him to be there when he is needed. We realize that at times, this is difficult. At times it can even be almost impossible, but it is a basic requirement if we expect to reach not only those in our congregation, but also those from the outside. A true shepherd will lead his people into a close relationship with God.

We expect our pastors to guide our thoughts and activities so that we will know what God expects of us. We already know the way, but a constant reminder will keep us wary of the pitfalls that are prevalent in this secular world. In II. Tim. 4:2 we read,

APreach the word, be instant in season, out of season, reprove, rebuke, exhort with all longsuffering and doctrine.@ Remember, this verse states Awith longsuffering.@ Please be patient with us.

We expect our pastors to remain faithful to his calling as a servant of God. He must therefore refrain from activities that may be questionable. In II Thes. 5:22 we read,

AAbstain from all appearances of evil.@ Your activities will indicate your closeness to God and will enhance your relationship with your congregation.

There are many other things that we expect of our pastors, but we too must realize that he is also a human being and subject to the frailties of man. With Gods help, we can work together and carry forward the work of spreading the Gospel of Christ not only within our own congregations but also to all people with whom we are in contact. Much is expected of both the pastor and the congregation. May each of us recognize our own responsibilities and pray for strength to accomplish that which God has requested of us.

___Ernest J. Kish

A more "positive" way to say Happy Thanksgiving to all!

I am thankful for the mess to clean after a party because it means I have been surrounded by friends.

I am thankful for the taxes I pay because it means that I'm employed.

I am thankful for the clothes that fit a little too snug because it means I have enough to eat.

I am thankful for my shadow who watches me work because it means I am out in the sunshine

I am thankful for a lawn that needs mowing, windows that need cleaning and gutters that need fixing because it means I have a home.

I am thankful for my huge heating bill because it means I am warm.

I am thankful for the spot I find at the far end of the parking lot because it means I am capable of walking.

I am thankful for all the complaining I hear about our government because it means we have freedom of speech.

I am thankful for the lady behind me in church who sings off key because it means that I can hear.

I am thankful for the piles of laundry and ironing because it means my loved ones are nearby.

I am thankful for the alarm that goes off in the early morning hours because it means that I'm alive.

I am thankful for weariness and aching muscles at the end of the day because it means I have been productive.

HOPE YOU HAVE A GREAT THANKSGIVING DAY!

THANKSGIVING
We have been the recipients of the choicest bounties of heaven. We have been preserved, the many years, in peace and prosperity. We have grown in numbers, wealth and power, as no other nation has ever grown. But we have forgotten God. We have forgotten the gracious hand which preserved us in peace and multiplied and enriched and strengthened us; and we have vainly imagined, in the deceitfulness of our hearts that all these blessings were produced by some superior wisdom and virtue of our own.
Intoxicated with unbroken success, we have become too self- sufficient to feel the necessity of redeeming and preserving grace, too proud to pray to God that made us! It behooves us, then to humble ourselves before the offended Power, to confess our national sins, and to pray for clemency and forgiveness.
-- April 30, 1863, President Abraham Lincoln's Proclamation for a National Day of Fasting, Humiliation and Prayer

LOVE IS ETERNAL
On July 23, 2000, at scenic Descanso Gardens in La Canada (a Los Angeles suburb) the wedding of a beautiful couple, John K. Farkas and Abby Becarril, took place. John is the great-nephew of Lydia Matyas and the grandson of Julia Marshall, Lydia's sister whom many of us knew well and whom the Lord called home just before her l00th birthday in May. Several in the Baptist fellowship know John's parents, Dan and Jill Farkas of Pasadena. In a leadership position with the governor's office, John is the Special Assistant for External Affairs for California Governor Gray Davis.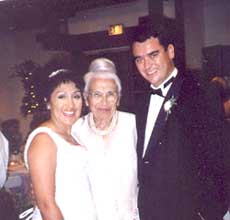 The photograph was taken at the wedding. In the center in photo is Lydia Matyas, organist at our Alhambra church; on the left is the bride, Abby Becarril, and on the right is the bridegroom, John K. Farkas. (Foto and script by Klari Vereczky Malis)

Baptism service on the Internet
A Texas church broadcast its baptism service live via the Internet. More than 250 people confessed their faith in Christ and were immersed in a tank of water at Fellowship Church in Grapevine April 2; the service was broadcast on the church's web site.
...Family and friends in other cities made up most of the audience that logged on. Those being baptized said they were glad people who couldn't be at the church could watch and hear what was going on. They said they also considered these types of ceremonies as potentially a witness to the rest of the world.
..."Baptism is a public step of faith," senior pastor Ed Young said. To stream it on the Internet is "the ultimate public statement," he said. Fellowship Church, which attracts about 10,000 people to its weekend services, plans to expand its Internet site to extend the church's reach. Religiontoday.com

MILLIONAIRE
A pastor didn't win a television game show, but got to share his faith. Southern Baptist Les Frazer of Scranton, Ark., appeared on ABC-TV's "Who Wants to Be a Millionaire" April 12 as one of 10 semifinalists. Contestants have a chance to win up to $1 million for correctly answering trivia questions posed by show host Regis Philbin.
...Frazer had developed several "sermon illustrations" and shared a few of them with the program's producers, who questioned him before the show about his life, family, and ministry, he told Baptist Press. The illustrations included "Heaven or hell: What will be your final answer?"; "Lifeline: The Lord is our lifeline," and "Poll the audience: It is not always best to follow the crowd." He also told producers about his ministry as a Christian clown.
...Frazer's story caught the attention of an ABC affiliate in Fort Smith and Scranton-area radio stations and newspapers, which interviewed him about his experiences and sermon illustrations.
"First Channel 40 aired my entire sermon illustration and then the Los Angeles Times called," he said. "There is no telling how many people have heard it [the gospel]."
...The trip to New York City for the taping was an unforgettable experience for Frazer and his wife, Kathy. She had spent most of her life in southwest Missouri and Arkansas among "Christian circles," and the trip "opened my eyes to the vast, multicultural world -- a world that needs Jesus," she told Baptist Press. ReligionToday.com

OCTOBER, 2000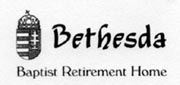 Reflections
Last night was the night of the full moon. I sat in awe as I looked up and saw the Big Dipper shining so brightly in the sky. The twinkling stars by the millions shone down on me. I looked up to try to locate some of God's other wonders in the sky. My, how brightly lit the sky was. I stood there for awhile and thought of the wonderful creation that God, our Heavenly Father had made many eons ago and that it is still in place for you and me to see and enjoy today.
Have you ever wondered about God's humor in creating the Zebra and the tiger with their stripes; or the spots on the leopard. Or how about when He added a hump to the back of a camel; or the long swinging trunk of the elephant, or the big tusk of the rhinoceros or the long neck of the giraffe? He also made rabbits to wiggle their noses, and made the deer so fleet in their running. He put a shell on the back of a turtle, wrinkles on bull dogs and He created bats to hang upside down when sleeping. Then there are the varied colors and shapes of the many tropical fish. Even each little bug no matter how small, has variety of shape and color.
Each time that we view a lovely sunrise or sunset, it steals our breath away. He could have made the sunsets gray instead of those spectacular colors of rose, and blue, and sometimes bright orange. He wrapped His creation in such splendor, all for you and me to enjoy. When we walk in our fields and meadows, we will find beautiful flowers growing amongst the weeds. He did this for you and me to enjoy. Yes God did this and as I stoop to examine them, I say to myself "Dear Lord, I like it. Thank You for creating these lovely things so that even today we can enjoy their beauty.@
I am also grateful for so many friends who continue to be interested and who pray for our work here at Bethesda. Our task is not easy, but we know that we are serving our elderly residents who are in need of our loving care. God is the answer to all our needs and "we will not be weary in well doing".
"How precious to me are your thoughts, O God! How vast is the sum of them! Were I to count them, they would out number the grains of sand." (Psalm 139:17-18) Ernest J. Kish

In His Order
A very ill little boy was telling his Grandma how "everything" was going wrong ...school was too hard, family problems, his severe pain, just all the hardships he was going through. Meanwhile, Grandma was baking a cake. She asked the child if he would like a snack, which of course he did.

- Here. Have some cooking oil.

- Yuck, - said the boy.

- How about a couple of raw eggs?

- Gross, Grandma.

- Would you like some flour then? Or, maybe baking soda?

- Grandma, those are all yucky!

Grandma replied:

- Yes, Sweetheart, those things seem bad all by themselves. But, when they are put together in the right way, they make a wonderfully delicious cake! God works the same way. Many times we wonder why He would let us go through such bad and difficult times, but, God knows that, when He puts these things all in His order, they always work for good! We just have to trust Him and, eventually the yucky stuff will be used to make something wonderful in our lives!

He works all things for our good!
Forwarded by the Molnars

Baptists in Cuba
Times are changing in Cuba. Baptists there held their first public evangelistic rally in 41 years. They packed two services at a sports arena in Havana, held in conjunction with the July 3-8 Baptist World Alliance General Council meeting in Havana, according to Associated Baptist Press.
...The rallies attracted 3,000 people each evening and featured music and sermons by BWA leaders Billy Kim of Korea and Nilson Fanini of Brazil, the news agency reported. General Council members also spoke in 40 evangelistic services held in area churches.
..."This is a historic event for the Cuban people," said Victor Gonzales, general secretary of the Baptist Convention of Western Cuba. "This is the first time that all the Cuban pastors, seminaries, and missionaries are together in one meeting. It is the first time we have celebrated open meetings since revolution times." There are approximately 38,000 baptized Baptists in Cuba, the largest evangelical group in the communist nation. ReligionToday.com (July 17)

SO THAT YOU MAY FEEL AT HOME IN CHURCH
To make it possible for everyone to attend church next Sunday, we are going to make it very special.
A cot will be placed in the sanctuary for those who say,
ASunday is my only day to rest.@
We will have steel helmets for those who say AThe roof would cave in if I went to church.@
Murine will be available for those with tired eyes... from watching TV late on Saturday night.
Blankets will be furnished for those who think its too cold, and fans for those who think its too hot.
We will have hearing aids for those who say that the pastor speaks too softly and cotton for those who say he speaks too loudly.
Score cards for listing the hypocrites present.
One hundred dinners for those who cant go to church and cook dinner also.
A selection of trees and grass for those who like to see God in nature.
A patting green near the altar for those who say,
ASunday is my golf day.@
The sanctuary will be decorated with both Christmas poinsettias and Easter lilies for those who have never seen the church without then.
Will we see you there?? (Ernest J. Kish)

Reading the Bible over a loudspeaker is "breaking hearts" in Russia. The people of Russia expect God to move upon the hearts of the unbelievers, Slavic Gospel Association's David Genn said. He recently visited Omsk Baptist Church where people became Christians with no prompting from the pastor or members, he said.
...More than 1,000 people come to the church one hour before the Sunday morning services to hear the Bible read aloud, Genn told InSight magazine. Members volunteer to read the Scriptures over the church loudspeaker as others read along in the pews. I could hear people weeping and praying throughout the sanctuary. I thought, 'the living Word of God is breaking hearts,' Genn said. ReligionToday.com

SEPTEMBER, 2000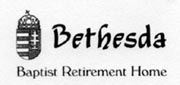 God has been our dwelling place for many generations. For 76 years we have been a haven of rest for our weary ageing citizenry. At a time when declaring God in public places is Aagainst the law@, our Home is still publicizing Gods care and concern for His children. At Bethesda, we still pray before each meal and we sing the praises of God each day. Our residents attend our Sunday morning worship services and our prayer sessions each Wednesday evening. In addition, each Friday afternoon is Bible study time and each Saturday morning we hear the ward of God proclaimed and we sing our beautiful old time hymns. Our pastor too is available at any time to discuss matters with any resident who wishes to talk about troubling matters. Thus the original intent of our founding fathers is still being carried on at our Bethesda Home.
This is not always easy when there is a diversity of residents and employees whose concerns are not necessarily spiritual. We do however have quite a few Christian residents who show their love of God by their actions and concerns for one another. We also have a number of employees who love the Lord and show that love in their daily contact with all of our residents.
For many years, we, as a convention, had to subsidize our Home. I remember the prayers and efforts that were made to keep the Home open and operating. Many of our early convention leaders worked hard to maintain the Home in good repair. We are the beneficiaries of their prayers and efforts. We then have a tremendous responsibility to use our resources wisely and in a Godlike manner. We have tried to manage the Home in such a way that would carry on the Christian and charitable manner in which our forefathers had intended. God has been good to us and we intend to carry on this philosophy. For example, some of our residents have run out of money and are unable to fully pay for their upkeep at the Home. We are therefore subsidizing quite a few of them. This is costly for us, but we feel that as a Christian organization we have to be charitable in all of our dealings with others. In addition, we often Afeed the hungry@ and Aclothe the needy@. Our reputation as a caring organization is well known in our area. We try to show Gods love through our actions. We have also made our presence known within the activities of our own Convention by contributing quite heavily to many of our common Projects. We also contribute $1000.00 each month to cover some of the operational needs of our Convention. This too is helping to build the kingdom of God within our own area of operations. With Gods help, we will continue to help our Convention as much as possible. We do however have some legal restraints imposed on us by governmental agencies and by good business practices. We must therefore be careful in all of our financial dealings.
Many of you know that at the present time our Home is for sale. We=ve had many inquiries but only a few with serious intent to purchase. Financing is in most cases the problem and we cannot agree to finance the sale. We are however confident that in Gods own time, his will will be done and that we await His directions. Please continue us in your prayers. ____Ernest J. Kish

If you want to see pictures (101+) about the great gathering of Hungarian Baptists at Nagyvárad - MABAVIT II. - go to http://baptista.hu/evhirnok

Special Day for the Molnar Family
Excerpt from the April 30. 2000 bulletin of the Westwood Baptist Church, Cary, North Carolina..
"The Worship Experience today is for the Glory of God and in honor of the Rev. William (Bill) Molnar and his wife, Joyce, whose lives reflect their devotion to God. Bill was ordained to the Gospel Ministry on November 24, 1944, in the Hungarian Baptist Church, Toronto, Canada. The Molnar Family has provided the beautiful pulpit, altar table and benches which we dedicate today in gratitude to God for the 55 years that Bill has been an ordained minister and for the years of bilingual ministry that he and Joyce have shared, first in Canada and since 1949 in the United States."

The Rev. William (Bill) and Joyce Molnar by the pulpit furniture.
A few quotes from Mrs. Molnar's letter to the editor:
"April 30th was really a special day for our family. It marked the culmination of a plan that was started almost a year ago. At that time, our three sons and I, together with others in our extended family, began to join in funding the purchase of the chancel furniture for Westwood Baptist Church. The Properties Committee said we could do that, and they helped us keep it a secret from Bill who knew nothing about our plan until November 20, 1999. By that time, we had sufficient funds to present to the Church on that Thanksgiving Sunday, and surprise and honor Bill on the anniversary of his ordination. We then worked with Church committees in the selection of the furniture which was delivered earlier this year.
The dedication service was conducted by the Rev. J. Charles Allard, Pastor of the Church. Our three sons, Leslie, David and Larry, together with their wives and three of our five grandchildren, were with us in Church that day.. They provided special music during the service. All three boys are Music Directors in churches where they live.

"The Molnar Ensemble" Back row from the left: Leslie, David and Larry Molnar. Front row from the left: Kathleen, Rosalie, Debra and Kimberly Molnar
It is interesting to note that this is a jubilee year for Rama. Well, the five of us were there that first summer - pitched our tent beside a small cabin that Frank Schaffer had provided for us. One of the Hungarian words our boys learned that summer was "figyelem". The big bell would ring, and then over the loud speaker we would hear the strong voice of Barath bacsi saying "Figyelem! figyelem!" followed by an announcement telling everybody it was meal time or meeting time. Occasionally, one of our boys will use that word when he calls the family to the table.
We are grateful to God for many good memories, experiences and fellowship we shared at Rama and in other gatherings of the Hungarian Baptist Convention."

Are You Disconnected?

By Klari Vereczky Malis

My telephone had been disconnected!

I'd lost my main source of communication and I couldn't find any logical reason for it.

True, I was a month late in payment because I'd been ill and neglected to make one payment. But that shouldn't create this problem since I brought the account up to date the following month, charging the two-month balance to my credit card.

The telephone company informed me the credit card payment had been denied. That's impossible! My account limit was much higher than I had used and payments were made on time.

Yet my phone was silent. Dead! I couldn't communicate with anyone.

Trying to contact the credit card source from a friend's phone was another dilemma. For two days, the automated message kept repeating that all lines were busy and "please call later". I couldn't even discuss the problem with the perpetrator of my predicament.

Why? Oh why, my Lord, can't I resolve this problem?

Romans 8:28 came to mind. It's one of my favorite scriptures: "All things work together for good for those who love God ..."

But how can a phone that is out of order work for good?

What can be the reason, Lord? Where does this lead?

His answer seemed to be: "Perhaps now you realize how I feel when I cannot communicate with you."

Let's think about this ...

Are we spiritually able to hear almighty God when He tries to communicate with us? Must he attempt every avenue available to him? Are all of the lines busy? I wonder how often our reply is "please call later" when the Lord dials our number on earth.

God's witnesses are everywhere. Do we hear and heed the advice of his servants? They may be a parent or pastor, a concerned Christian friend Y perhaps a stranger.

What is our reply when God calls? We need to be prayerfully close enough to him to be aware of his gentle persuasion.

The result of my disconnected telephone is this article. After finally turning to the Lord with my problem, it seemed he whispered that this might be the reason. If the thoughts expressed here have made you think about your "communication" with our Savior, praise the Lord!

IGNATZ FEKETE

1909 - 2000
The Lord called to his glory another devoted servant. Ignatz (Iggy) Fekete heard his call to glory on August 16. He had lived for over 91 years and had served his master faithfully for most of his lifetime. For many years he and his family were members of our old time Hungarian Baptist Church in Gary, Indiana. Here he found the Lord and later met his wife Irene, the daughter of the late Rev. Albert Petre. God had blessed their life together for more than seventy Years. They were blessed with six children who are even now serving the Lord in various ways, Donald as a minister of the Gospel, Albert as a fire chief and Charles as an official photographer for our past president Ronald Regan. Two daughters, Renee and Sharon are school teachers in the Winter Park area. All of these children are valued Christian members of our society which indicates the manner in which they were reared. In addition to the six children noted. he is survived by two brothers Nick and William, one sister Helen, ten grandchildren and ten great grandchildren.
After retirement, Iggy moved to Florida and lived at Bethesda for a number of years. He and his wife Irene, had served as substitute administrators in the absence of the director. He was a devoted member of our Bethesda Baptist Church and sang in our choir. Because of deteriorating health and a desire to be near to family, they relocated to Winter Park, Florida where they became active in the First Christian Church. During the past few years, because of their advancing years and physical condition both Iggy and Irene lived in a nursing home. We visited with them often and each time they inquired about the activities of our Hungarian Baptist Convention. To the end, they were a part of our fellowship. His favorite scripture was the 116th Psalm part of which states, "For thou hast delivered my soul from death, mine eyes from tears, and my feet from falling. I will walk with the Lord in the land of the living." Iggy now could say with the apostle Paul: "...the time of my departure is at hand. I have fought a good fight. I have finished my course. I have kept the faith. Henceforth there is laid up for me a crown of righteousness which the Lord, the righteous judge shall give me at that day, and not to me only, but unto all them also that love his appearing."
Servant of God, well done

Rest from thy loved employ

The battle fought, the victory won

Enter thy masters joy.

The pains of death are past

Labor and sorrow cease

And life's long warfare closed at last

Thy soul is found in peace.

Servant of God, well done.

Thy glorious warfare past.

The battles fought, the race is run

And thou are crowned at last.

Iggy, we'll see you in Heaven. ___Ernest J. Kish

AUGUST, 2000
93rd ANNUAL CONVENTION, RAMA, ON, CANADA, JUNE 30 - JULY 1

An overview by Ella Marosi
After a devotion given by pastor Laszlo Dan, President Sandor Kulcsar officially opened the Convention. The theme for the 93rd Convention was introduced: GOSPEL FOR EVERYONE! We were asked to intercede for each other and, even to fast, attempting to understand and support one another through God's grace. Rev Kulcsar believed that through Christ, triumph was certain.
Afterwards, the reports of the President and also the General Secretary, Mr. Isvan Szabo were given.
Dr. Herjeczki, as editor of the Gospel Messenger and Mr. Bela Fur as subscription manager, gave an insight on the status of our newspaper. Emphases were given to the Internet version of the monthly.
Pastor John Hunter gave a message from Acts 1:8- Witnesses for Jesus Christ. It was a challenging exhortation in Hungarian but is available in English as well.
Following the reports of the committees (Missions & Financial) the Women's Convention, was opened by its president, Mrs. Annamaria Kulcsar. She desired that we serve the Lord in love and harmony. Mrs. Gabriella Olah was elected president of the Women's Convention. The Men's and Youth Conventions were held simultaneously.
The evening worship service featured Ruth Wright and Dr. Margaret Cserepka. Ruth spoke of her involvement with Pioneers Mission- befriending foreigners who wish to learn English. Her contacts are mostly Muslim and she seeks to acquaint each one with the Lord Jesus Christ and His Gospel. They need our prayers as does Ruth. Dr. Cserepka spoke of the ministry of her late husband and herself in Bolivia. They began a "cooking school" for young girls. This opened the door to reach their parents. Pastor Cserepka told a Bible story at each lesson and gave Bible verses to memorize. The girls planned a banquet for their families and the Gospel was presented. Dr. Cserepka was able to reach remote areas to administer medical help. God enabled them to persevere, despite hardships, seeing fruit for their labor of love.
The two speakers for Friday nigh (Ruth Wright & Dr. Margaret Cserepka)
A moving testimony by Margaret Gerstner described her encounter with Dr. Foldes, a Jewish surgeon. She worked as housekeeper/care giver for the family and with the Holy Spirit's guidance and loving kindness during the doctor's terminal illness, she was able to see him accept Jesus as his Messiah! He died shortly thereafter.
On Saturday morning pastor Joseph Novak gave a devotional based on 1Cor 2:2 - Nothing but Jesus Christ. He said that Paul did not want to impress his hearers with his intellect or pedigree; only with Christ crucified. Because Christ suffered for us, we can expect to suffer also. Like Paul, we must identify with Him. He requested prayer for the pastors especially, that they would exalt only Christ Jesus and we would be "instant in and out of season" in our proclamation of the Gospel.
Mr. Istvan Szabo remembered those who had passed into eternity during this past year. He remarked that they were faithful to the end. He felt honored to mention them and regarded them as pillars of the church.
Mr. Ernest Kish inducted the new officers and encouraged them to work faithfully as Nehemiah did in building Jerusalem's wall. There should be joy as those Jews had in ministry. Our relationship with the Lord should blossom as we obey the challenge of Romans 12:1- to present our bodies as a living sacrifice, holy and acceptable to God which is our reasonable service.
Ethel and Ernest Kish were honored as they celebrated 60 years of wedded bliss! They met in 1938 at a Hungarian Baptist Convention.
Mrs. Werle was honored as a veteran of 98 years. She had not missed a single Convention! She also recalled her involvement in the founding of the Toronto Hungarian Baptist Church and other pertinent historical events related to the Hungarian mission.
Mr. Loius Drescher was recognized for devoting 20 years of dedicated service as Convention accountant.
Pastor Kulcsar and others mentioned the coming of the Hungarian Baptist World Conference in Transilvania in August, 2000. Several from the Convention are planning to attend.
The decision was made to have the 94th Convention in Alhambra, California. Mr. Stephen Tagai invited everyone to attend, as their representative.
Dr. Herjeczki's message was from the text: 1 Tim. 2:4 stating that God wants all men to be saved and come to a knowledge of the truth. Though we cannot do everything, we can do something for God's kingdom. We should shun no one from hearing the Gospel. Our neighbors should be reached, regardless of nationality, but we should specifically reach out to our Hungarian acquaintances. We cannot do this in our own strength but must rely on the Holy Spirit's power. His urging and presence are essential. This is God's mandate, not ours. The destiny of every Hungarian should be our concern.
Pastor Kulcsar closed the 93rd Convention with words of encouragement to continue our mission prayerfully. He closed in prayer, asking that God would bless everyone until the next Convention meets in Alhambra in 2001.

I WAS NOT INTERESTED!

By Klari Vereczky Malis
A photo recently reminded me of a wonderful pastor I had while living in Daytona Beach, Florida. He was instrumental in my salvation and was called "home" while serving the Lord in India. I'd like to tell you how much this pastor meant to me after I found Jesus in that special kind of way - salvation.
Dr. Maurice Berquist, a dedicated servant of God who pastored a growing congregation in Daytona Beach for more than 15 years, was a kind, gentle and wise man. He had become highly respected and admired among religious leaders of his fundamental denomination and authored more than two dozen books. One, "The Doctor Is In," was also produced for television.
It is not because of his several accomplishments that I think of Brother Berquist today. Instead, I recall most vividly my opinion of this pastor before I became a believer. And how my impression of him changed dramatically the moment I accepted the saving grace of my Lord Jesus.
I didn't like Brother Berquist at all during the dozen years before I came to know Jesus personally. But I do believe the Lord led him to be "there" wherever I was working.
It seems that this pastor--whom I didn't like very much--was evident everywhere I went. He bought windows from our firm when I was with a window manufacturer. Later, employed at a local lumber yard, I helped him purchase building materials for his church's new construction. And he even had a Christian program on a local radio station when I was a commentator there! Brother Berquist was always there and, even though I didn't appreciate it at the time, he continued to be God's witness to me.
Whenever this pastor invited me to a special program at his church, my reply was, "Maybe. I'll see." Yet I knew deep down in my heart I wouldn't attend. However, he kept inviting me--for YEARS! Even his secretary phoned. Other believers called me. But a polite "maybe" was my only response.
I never went. Living as a "modern" young woman in Daytona Beach, the lifestyle of Christian believers seemed dull and uninteresting. This pastor and his friends did not appeal to me in the least.
But from that moment--that beautiful moment--when Jesus came into my heart with His Saving Grace, I saw Brother Berquist as an entirely different person. I came to respect and admire this patient pastor who had tried to bring me, a "lost" lamb, into God's sheepfold.
I learned a great lesson through this experience. I realize that, as the Lord's Servants here on earth, we are to PERSEVERE in trying to reach the lost even when they are not interested in His Message. Most of the time, it takes more than one invitation for someone to accept our offer. And it also takes a lot of prayer for the Holy Spirit to convince that lost loved one to come to Jesus.
I wonder how many persons prayed for me before I became interested in and accepted God's Great Love. I'll be eternally grateful to all of them . . . and to Brother Berquist.

ELMER MUNCSAN

(1926 - 2000)
Elmer Muncsan of Allen Park, MI., a devoted and active member of the Bethel Baptist Church and a champion of rights for nursing home residents, died on June 10, 2000. He was 74.

Mr. Muncsan was born in 1926 to the late Laszlo and Ethel Muncsan. He graduated from Henry Ford Trade School, earned a four year degree at Detroit Business Institute, went to work for General Motors where he spent the next 40 years until his retirement.

In 1995, at the age of 69, he spent 10 month in Hungary, his parents= homeland, as a volunteer teaching English at the International Baptist Lay Academy. His students were deacons, Sundayschool teachers and directors fo youth and women=s ministries from 21 Eastern European countries.

To prepare for the trip, he returned to school himself to earn certification as a teacher of English as a second language.

A

You don=t stop living once you retire,@ Mr. Muncsan said before his trip. AYou have to keep your mind active by countinuing to learn. The more you learn, the more interesting life is.@

He is survived by his sister, a nephew and nieces.

(Read more on Elmer Muncsan in the Hungarian section.)

JULY, 2000
Wedding
On November 6, 1999 Ramona Hunter and Timothy Zoltan Turmezei were united in marriage at the Bear Valley Springs Community Church in Tehachapi Calif.
They were joined in marriage by Rev. Michael Boys, Pastor of the church. The promise of marriage was read by Rev. John V. Hunter, father of the bride and pastor of the Hungarian Bible church of Santa Monica California.
The scriptural mandate of love, I Cor. 13: 4-8 was read in Hungarian by Rev. Zoltan Turmezei and in English by pastor Michael Boys. The congregation sang Great is they faithfulness.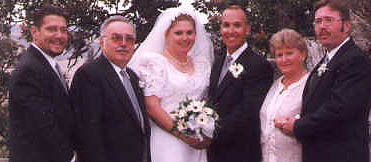 Frank and John Hunter Vadasz, Ramona Hunter Mrs. Turmezei, Tim Turmezei, Martha and Alex Hunter Vadasz
Ramona and Timothy are born-again Christians, they both serve the Lord and attend church regularly every Sunday. I know God will continue to bless both the Hunter and the Turmezei family, because they love the Lord.
Following the marriage ceremony a Christian reception was held, everyone had a wonderful time, even though there was no drinking, smoking or dancing.
I know God will bless the newly wed couple in a special way, as they continue to serve him.
Ramona and Tim will live in Tehachapi Calif., where she will continue to be a substitute teacher and Tim will continue to work in the prison as a correctional officer. ___Helen Olah

MAY AT BETHESDA
The month of May is a Beautiful time of year in Florida. It is a time when our weather is more moderate and our orange blossoms are in full bloom. The beauty of new growth indicates Gods love for His people even here in Florida.
Our Home is still in full operation. For the most part we are at 100% occupancy. Our folks are well fed and well treated. We try to maintain a Christian atmosphere to indicate Gods love for his aging loved ones. Many of our residents come to Bethesda because of that very reason. Our Pastor Denzel Alexander confers with our residents and they in turn attend our church service on an ongoing basis. Our meals are started with prayer and we sing our old favorite hymns in closing.
Mothers Day was once again a special day at Bethesda. We honored our mothers, and grandmothers, with beautiful flowers and with a dinner fit for a queen. Special gifts were also presented to them by various organizations from our area. There were many smiling faces at our Home that day.
For the past several months we have had technicians at our Home installing a new fire alarm system. This is sorely needed to guarantee the safety of our residents. They are approximately fifty percent finished with the work. When completed, we will have the latest technology available and we will be in full compliance with ~re regulations.
We are still negotiating with various organizations in regard to the possible sale of our properties. This is a slow process and we must be patient. Our plans are to sell to some organization that will continue to serve our people just as we have been serving for over 75 years. As soon as we
have something to report on this we will advise you of it. In the meantime, please remember us in your prayers. God Bless. ___Ernest J. Kish

STEVEN SALAMON
Steve Salamon went to be with the Lord on December 30, 1999. He was for many years a faithful servant of the Lord. He was a member of The Hungarian Baptist Church in New York City where he and his family had served faithfully. He is survived by his wife Emma, three children, Steven III, Judith and Emma; also by six grandchildren and five great grandchildren. Steve was faithful to God and will be fondly remembered as a loving husband, father, grandfather, and great grandfather. The 128th Psalm was one that Steve lived by. His granddaughter Tracey wrote the following:
"How do you know where to start when you have so many things to say but you don't know how to say them? How do you know what to do when items are difficult and emotions are still fresh? Well, I know exactly what I want to say, and what I have to say is simple. I will miss my grandpa. I know this because I miss him already. I'm sure I speak for all of us when I say that I think my grandpa, our grandpa, was a great man and a wonderful, caring grandfather. One of the things that I will miss the most is the way he could light up a room. The way everybody's spirits were lifted just by being with him. Quick to supply a joke, quick to make you feel better, Grandpa was able to light up a room every time just like my father can. The way I would feel when Grandpa used to smile at me reassured me every time that I was loved and that I was safe. It=s strange how things like this can be so sad, but at the same time they pull a family together. It makes me realize what I have. It makes me appreciate my family more.
I like to think that the wind talks to me. I like to think that the wind whistling is really Grandpa whistling at me, the way he always used to, letting me know that where I am is exactly where I should be. This thought comforts me and motivates me to do what I want to do in my life, and to do it now.
Time is short. Time sneaks up on you and sometimes you may get angry that time isn't longer. But in the same instant, time is what helps you heal. Time doesn't help you forget-- it just shields your heart. I know that when we die, Grandpa will be the one shielding us. As for now, he is the one looking down on us, keeping us safe, and reassuring us every step of the way." ___Emma Salamon

RE-EVANGELIZE EUROPE
New efforts are needed to re-evangelize nominally Christian Europe, missions theorist C. Peter Wagner says. It is time for Christians to pray for Europeans and send more missionaries to open up what he calls the "40/70 Window," he said, referring to the areas between the 40th and 70th parallels. In more than 50 nations of highly secularized Europe, many people who are numbered as Christians "have never heard the gospel," he said. Religiontoday.com

|BACK HOME| [CURRENT ENGLISH PAGE]
List of Previous Issues (ARCHIVE)

|SEPTEMBER 1997-AUGUST 1998 ISSUES| {EvHir-English1}

|SEPTEMBER 1998 - JUNE1999] {EvHir-English2}
[JULY1999 - DECEMBER1999] {EvHir-English3}