Monthly of the Hungarian Baptist Convention of North America
DECEMBER, 2001
REFLECTIONS ON THE DEDICATION OF A CHURCH

Dedicating the Hungarian Baptist Church of Chicago began on Saturday evening, November 10, with a service by the youth of the church and those from visiting churches. This service included a youth choir, a children=s choir, a personal testimony, poetry recitations and instrumental music. I observed so much talent and sincere dedication to the cause of Christ. It was nice to see the youth included in the celebrations, since they are always such an important part of every congregation.

[Click for pictures on the special event at Chicago]

Sunday morning=s activities began with a prayer service, followed, without interruption, by the regular worship service. During the day, all visiting pastors served in some capacity.

At noon, we were all treated to a delicious luncheon provided by the local congregation at a nearby restaurant. It took more than 20 tables to take care of about 225 people.

The afternoon Dedication Service began outdoors on the church grounds. The youth presented each person present with a balloon. After a prayer, a signal was given to release the balloons. As they ascended heavenward, one had the feeling that they were symbols of gratitude for the many blessings the church had received from God. It was a beautiful sight - a lovely thought.

The afternoon service indoors included a few sermons, many speeches and congratulatory messages from pastors representing Hungarian churches of various denominations, including the former pastor of that church, a Presbyterian minister, and a Romanian Baptist minister. Gift checks were presented to the church. There were poetry recitations, and at least one of them was composed for this special occasion.

What truly lifted my soul was hearing the excellent quality of such a variety of music. Providing choral music were choirs from the Hungarian Baptist churches of Toronto, Detroit, Chicago, and a United Church Choir which included all singers. The local church had an excellent brass quartet (2 trumpets, a baritone horn and a tuba) which played inspiringly several times during the services. What talent! The church in Chicago is fortunate to have such fine musicians, led by its very talented organist! choir director! tuba player. Hungarians are such good musicians!

I was impressed with the church building. Not too much needed to be done to the exterior, but the interior (upper and lower levels) were completely renovated. Walls and windows were replaced, pews were refinished, altar furniture was installed and a red rug was laid. The lower level has a well-equipped kitchen, an office, and a spacious auditorium where we were served our first meal (Hungarian gulyás) upon arriving, and where we enjoyed refreshments, with delicious Hungarian pastries when all the festivities were over. The renovation took many hours and many willing hands to produce the beautiful and worship-inspiring sanctuary. I learned that the excellent workmanship was done by the skilled members of the congregation. I also learned that at the helm was a dedicated youngman of many talents: church leader, laborer, coordinator of the program, chauffeur, guide, trumpet player, tenor in the choir, translator (from Romanian to Hungarian), etc., etc. Thank you, Steve Szabo.

Besides getting to know members of the local church members, it was nice to meet and greet people from far away places, like California, Cleveland, Detroit, New York and Toronto. Those of us who came from sunny Florida found the weather in Chicago cold, but we also found warmth in fellowship with the brethren.

The Lord has richly blessed the Chicago congregation with a beautiful place to worship, many talented members and excellent leaders. They are enthusiastic about winning Hungarian souls in Chicago for Christ. May their labors bear much fruit is my fervent prayer. May God bless you all.

I'm glad I went to Chicago. Esther Petre Plyler
October at Bethesda
Our days at Bethesda are always busy doing the things that have to be done with and for elderly people. Each activity has to be designed to bring joy and comfort to Gods children. Each resident has needs that are individual and of importance to him/her. With seventy residents, our activities are at times greater than our capacities, but we do it willingly in order to satisfy our residents. We drive them to doctors visits, we take them on tours, we pick up their medications, we take them shopping and at times we take them out for ice cream and dinner. This keeps them happy and us busy. October is a very beautiful month in Florida. Our weather is somewhat cooler and our fruits are ripening and soon we will be able to enjoy the fruits of our labors. We still have every room filled and we have a staff of 31 employees. Thus, all of us contribute to the operation of a well run retirement complex.
It is a joy for us to see so many of our residents partake in our church services on Wednesday evening and on Sunday morning. They love to sing and their prayers are heart warming. Our pastor, The Reverend Denzel Alexander spends much time in conferring with our residence on matters of spiritual growth. Many of our people continue to reside at our Home because of the church related activities that we provide for them. Each of them are aware of the fact that their days are numbered and they want to make peace with God while there is still time. We have been providing this service for more than seventy five years and even after our Home is sold we will continue to do so.
You are aware of the fact that our Home is for sale and we are now in the final phase of the sales process. There have been so many matters to resolve before the transfer of our deed. We have worked hard and diligently to satisfy the legal ramifications involved in the sales process. It is our hope and prayer that soon every T shall be crossed and the i=s all dotted. We will then have to invest our resources wisely in order to guarantee the funds needed for the Missions programs of our Convention. We need much good judgment and we covet your prayers. God bless you all.
Ernest J. Kish, Chaiman of the Board

Steps in the Translation of the Bible into the Language of a People

by Vic Monus, member of Wycliffe Bible Translators
"...precept upon precept...line upon line..." The Author of the Holy Scriptures desires that the meaning of His Word be received as He intended it for the original hearer. Just as the hearer needs to apply each precept and each line, so we the translators exercise caution to translate the concepts that His Word conveys. Our overall aim is to make the translation of the Scriptures be accurate, natural and faithful to the original.
The earliest stages of Bible translation consist of a careful exegetical study of the Scripture passage to be translated, the production of a first draft of the Scripture text in the the target language, a review of the first draft by speakers in the language community, the revision of the text. When all the books of Scripture are complete, (in most cases the entire New Testament and some portions of the Old), a read-through of the entire New Testament takes place. This done, the manuscript is ready for submission to the technicians at the Bible society who prepare it for publication. They in turn provide the translation team with galley proofs intended to give one more opportunity to do a final check of the translated Scriptures. The team looks at the text one more time and turns it over to them for publication.
Early in 2002, the Dogrib translation team in the Northwest Territories, Canada, expects to finalize the New Testament for that language group. One of our tasks in this process is to assure that there have been no omissions in the text. To assist in checking for any inadvertent omission, I am using a software program developed jointly by the United Bible Societies and the Summer Institute of Linguistics called Paratext. This tool makes it possible to align a number of texts (e.g., the original languages, the Scriptures in English and other modern languages, the Dogrib text, etc.) for the sake of comparison, phrasing of specific parts of the text, the use of key terms and other aspects of treatment of the text.
Another team, not involved in the translation process, but a speaker of the Dogrib language, has been making an audio version of the translation available to the Dogrib community. This aspect of the communication of the Word of God in the language of the people is vital to the continued usage of the Scriptures by the people. The people of the Dogrib communities, five in all, have become aware of the fact that translation of the Word into their language is in progress and key individuals are becoming advocates of the importance of the translation and use of the Scriptures by the people.
This article will no doubt raise questions in the mind of the reader who is urged to contact the Wycliffe Bible Translators, PO Box 628200, Orlando, FL 32862-8200. The organization's website which provides a wealth of information on Bible translation can be accessed at: www.wycliffe.org

PRAYER FOR AFGANISTAN

European Prayer Call:
During their September 25-29 meeting in Prague, Czech Republic, leaders of the European Baptist Federation (EBF) asked all of their member unions and friends to join in prayer for Afghanistan.

A

The decision to retaliate against the terrorists for the destruction of September 11 was one that I am sure was not taken lightly,@ said Theo Angelov, general secretary of the EBF. AWhat we must insure now, however, is that innocent civilians will not pay the price for the actions of a small group of people. We are asking all Christians to come together to pray for these civilians and for a quick end to this war. We are also asking for prayers for the United States and other world leaders as they make decisions that will have long-term consequences.@ (BWA News)

| | |
| --- | --- |
| Remembering Elisabeth Tresanszky | |
Elisabeth Tresanszky (Udvarnoki) was born March 20, 1909 in Hungary. In her early thirties she married Dr. Vilmos Tresanszky.
She came to this country after the revolution in 1956. Elisabeth joined the Hungarian Bible Church of Santa Monica, CA in the early eighties. God sent her to us, she indeed was not only a true faithful member of our church but also a true servant of God. God gave her a special talent singing and also the ability to translate for Karl Faulkner, a missionary to the Hungarian people. Elisabeth was only 4'10" tall but she was a giant in her special life on this earth. In her younger days she helped to take care of her nieces and nephew.
She was a wonderful person, the Lord called her to be with Him early this year at the age of 91 in Hungary. Helen Olah


November, 2001.

THANKSGIVING

by Terezia Faulkner
I greet all of you with Psalm 4:5-8. God, in His mercy and love, cultivates our lives. The Lord Jesus' love brings us together to pray and think of each other. Our spiritual relationships are worth more than our earthly treasures. Perhaps David had these feelings.
In the fall months when the farmers harvest the fruits of their labor and provide for our everyday bread, there is reason for our thanksgiving. Without God's blessing we would not have had the yield. But David says even more in here for us, "You have filled my heart with greater joy than when their grain and new wine abound." (Psalm 4:7) If the Lord shines his face upon us, it is more valuable than the fruits of the earth, wheat and wine. We labor for spiritual things and give much deserved praise to the Lord who provides the strength for our efforts. If our bodies tire, the Psalmist David said: "I will lie down and sleep in peace, for you alone, O Lord, make me dwell in safety." (8) Is there really peace for those that have not reconciled with the Lord? Is there really peace for those who walk in darkness because their hearts have not been touched by the light of the Lord? For those that do know his peace, they are more blessed by this than by anything the world has to offer; all the more reason to be thankful on Thanksgiving.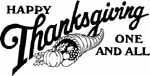 The Christian's Garden

1) Plant five rows of peas: Prayer, Perseverance, Patience, Participation, Pardon

2) Next plant three rows of squash: Squash gossip, Squash criticism, Squash indifference

3) Then plant five rows of lettuce: "Let us" be faithful, Let us love one another, Let us be unselfish, Let us be truthful, Let us be generous

4) No garden is complete without turnips: Turn up for church, Turn up to lend a hand, Turn up the corners of your mouth!

"And sow the fields and plant vineyards which may yield fruits of increase.@ Psalm 107:37

Need a smile?

Tithing Story

A

Bring the whole tithe... and see if I will not throw open the floodgates of heaven...@ (Mal 3:10)

There were two men shipwrecked on this island. The minute they got to the island, one of them started screaming and yelling. "We=re going to die! We=re going to die! There's no food! No water! We=re going to die!"

The second man was propped up against a palm tree and acting so calmly it drove the first man crazy.

"Don't you understand?!?!" "We're going to die!!" the first man said.

"You don't understand. I make $100,000 a week" said the second man.

The first man looked at him quite dumbfounded and asked. "What difference does it make? We=re on an island with no food and no water! We=re going to die!!"

The second man answered, "You just don't get it. I make $100,000 a week. I tithe. My pastor will find me!" (D. S. Cole)

Reverend Louis Kurtz
In early August the Lord had called to His glory a faithful servant, The Reverend Louis Kurtz. He was 92 years old and had served his Master faithfully for most of his life. He was a leading member of our Hungarian Baptist Church in Garfield, New Jersey, until moving to Florida to assume the directorship of our Bethesda Baptist Retirement Home. He and his wife Marie, had served in that capacity from 1962 to 1972. He was instrumental in leading the Home through some rather difficult periods. He did so with knowledge and grace. While working at the Home he also worked with other pastors in the spiritual responsibilities of the Home and the Church. He partook in many of the activities of our Convention serving in various capacities. He was faithful in his services to the Lord. His wife Marie preceded him in death by a number of years and he faithfully visited her grave site on a daily basis for many years. The Reverend Kurtz was faithful to His Lord throughout most of his life and has now received that "well done" call and is enjoying the beauty of his new home with the Lord. "Precious in the sight of the Lord is the death of his saints". Ps 116:15.
Ernest J. Kish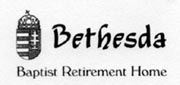 September at Bethesda
God has once again been with us throughout another month. We have felt His presence and have tried hard to pass on His love to all those with whom we were in contact.
We once again were filled to capacity and were able to satisfy "our seventy residents". This is not always easy since all of us have varying requirements. On the first Monday morning of the month we hold what we call a resident council meeting at which time our residents meet with management to give vent to their wants and problems. Most of the problems deal with the food we serve and the activities that take place during the month. We listen to their comments and we try hard to satisfy their wants if at all possible. This way we are able to keep our residents happy and as well as possible. Most of our residents are happy, but we also have some that can never be satisfied not matter how hard we try. But that is what our challenges are.
Our Home is being kept in good condition in spite of the fact that our buildings are getting old and many repairs and changes have to be made. It is our hope that very soon these responsibilities will be transferred to new owners. At the present moment it looks like this transfer will be made on December 1,2001. Our negotiations are now in the final stages and it looks as though the transfer will be made on the first of December. You will be notified when we have completed all negotiations and have the sales price in hand. In the meantime we request your thoughts and prayers because there is still much to be done before the final transfer is signed. God Bless.
Ernest J. Kish, Chairman of the Board

DO IT AGAIN, LORD

Max Lucado

Dear Lord,

We're still hoping we'll wake up. We're still hoping we'll open a sleepy eye and think, "What a horrible dream."

But we won't, will we, Father? What we saw was not a dream. Planes did gouge towers. Flames did consume our fortress. People did perish. It was no dream and, dear Father, we are sad.

There is a ballet dancer who will no longer dance and a doctor who will no longer heal. A church has lost her priest, a classroom is minus a teacher. Cora ran a food pantry. Paige was a counselor and Dana, dearest Father, Dana was only three years old. (Who held her in those final moments?)

We are sad, Father. For as the innocent are buried, our innocence is buried as well. We thought we were safe. Perhaps we should have known better. But we didn't.

And so we come to you. We don't ask you for help; we beg you for it. We don't request it; we implore it. We know what you can do. We've read the accounts. We've pondered the stories and now we plead, "Do it again, Lord. Do it again."

Remember Joseph? You rescued him from the pit. You can do the same for us. Do it again, Lord.

Remember the Hebrews in Egypt? You protected their children from the angel of death. We have children, too, Lord. Do it again.

And Sarah? Remember her prayers? You heard them. Joshua? Remember his fears? You inspired him. The women at the tomb? You resurrected their hope. The doubts of Thomas? You took them away. Do it again, Lord. Do it again.

You changed Daniel from a captive into a king's counselor. You took Peter the fisherman and made him Peter an apostle. Because of you, David went from leading sheep to leading armies. Do it again, Lord, for we need counselors today, Lord. We need apostles. We need leaders. Do it again, dear Lord.

Most of all, do again what you did at Calvary. What we saw here last Tuesday, you saw there on that Friday. Innocence slaughtered. Goodness murdered. Mothers weeping. Evil dancing. Just as the ash fell on our children, the darkness fell on your Son. Just as our towers were shattered, the very Tower of Eternity was pierced.

And by dusk, heaven's sweetest song was silent, buried behind a rock.

But you did not waver, O Lord. You did not waver. After three days in a dark hole, you rolled the rock and rumbled the earth and turned the darkest Friday into the brightest Sunday. Do it again, Lord. Grant us a September Easter.

We thank you, dear Father, for these hours of unity. Disaster has done what discussions could not. Doctrinal fences have fallen. Republicans are standing with Democrats. Skin colors have been covered by the ash of burning buildings. We thank you for these hours of unity.

And we thank you for these hours of prayer. The Enemy sought to bring us to our knees and succeeded. He had no idea, however, that we would kneel before you. And he has no idea what you can do.

Let your mercy be upon our President, Vice President, and their families. Grant to those who lead us wisdom beyond their years and experience. Have mercy upon the souls who have departed and the wounded who remain. Give us grace that we might forgive and faith that we might believe.

And look kindly upon your church. For two thousand years you've used her to heal a hurting world.

Do it again, Lord. Do it again.

Through Christ, Amen.

America Prays, Sept. 15, 2001; Injoy.com

OCTOBER, 2001

"In times like this we realize how weak and inadequate we are, and our greatest need is to turn in repentance and faith to the God of all mercy and the Father of all comfort. If ever there was a time for us to turn to God and to pray as a nation, it is now, that this evil will spread no further. It is also a time for us to remember the words of the Psalmist (46): 'God is our refuge and strength, a very present help in trouble. Therefore we will not fear...'" Billy Graham

"What a tragic event
has occurred to humanity! As Baptists around the world, our hearts go out to the victims of this malicious attack. We will certainly pray that God may grant the needed wisdom for the difficult decisions, which need to be made.

What an encouragement to receive news that the Hungarian Baptist Aid is willing to send their Special Search and Rescue Teams to assist in the aftermath of this unprecedented tragedy.

May we always be ready and willing to assist wherever and whenever needed to alleviate a suffering world.

We will continue to uphold the victims and their families in prayer. We ask God's special blessing, peace and comfort for each one.

'And the peace of God, which passes all understanding, shall keep your hearts and minds through Christ Jesus'

Philippians 4:7."

Billy J. H. Kim

, President of the Baptist World Alliance

MY "GOD'S EYE VIEW"
(Jason Mátyás kapitánynak ezt a levelét a szept. 16-i istentiszteleten nagymamája, Mátyás Lídia testvérnő olvasta fel a gyülekezet előtt. Imádkozzunk katona-testvéreinkért!)
Words fail me in fully expressing my thoughts and emotions in response to the attacks on our great nation this week. Knowing my tendency to be verbose, I will try to be brief in giving my "God's eye view."
As I flew for 6 hours in an orbit over Manhattan and New York City today, refueling Air National Guard F-16 fighters flying Combat Air Patrol over a city in shock, I had a unique perspective and opportunity to reflect on the recent events. With all commercial and civil air traffic shut down all day today (the first time in U.S. history), the skies were clear of aircraft except for military jets and a couple emergency flights related to the relief effort. It was an eerie sight to be flying essentially a military combat operation over our nation's largest city and at the same time to not have the normal plethora of aircraft swarming through the sky in the busiest airspace in the country. Through dozens of laps around the orbit, I could look down and see the smoke and dust rising from the site where the twin towers used to stand and hanging over the city, a strange symbolism of the undoubted cloud of confusion hanging over many people's lives right now. This was the physical part of my "God's eye view."
The more important part of my "God's eye view," the spiritual one, I have known since this tragedy began, but which I have only seen in words tonight. I have known that in all things and at all times, God the Father of the Lord Jesus Christ is sovereign and in control, and that He has allowed this event to happen for a reason and will use it for good. After I landed from my flight tonight and called my mom, she told me that she has been reading the Psalms corresponding to the day of the month and said that I had to read Psalm 11, which was incredibly fitting to the events of yesterday, September 11th. I transcribe it here for your convenience - please read it because it says more than I could ever say.
1) In the Lord I take refuge. How then can you say to me: "Flee like a bird to your mountain. 2) For look, the wicked bend their bows; they set their arrows against the strings to shoot from the shadows at the upright in heart. 3) When the foundations are being destroyed, what can the righteous do?" 4) The Lord is in his holy temple; the Lord is on His heavenly throne. He observes the sons of men; His eyes examine them. 5) The Lord examines the righteous, but the wicked and those who love violence His soul hates. 6) On the wicked He will rain fiery coals and burning sulfur; a scorching wind will be their lot. 7) For the Lord is righteous, he loves justice; upright men will see His face.
Two things that I would like to note from this passage and exhort you to examine:
1) Take refuge in God and seek His face, that you may be one of those "upright men [that] will see His face." Pray that you will grow in a closer relationship with God that He will be your guide and comfort in this difficult time, and for our Nation and our President and other leaders, that they would seek the Father and do His will.
2) God is on His throne and is in control of all things. Those who have perpetrated this evil act in person will reap death in eternity according to His righteous justice and those who have not been apprehended yet will likely be caught or destroyed according to the sovereign will of God. They will receive the "fiery coals and burning sulfur," possibly in this life, but undoubtedly in the next. In light of this, pray for the world of
Islam, that God would use this event to break their stubborn and darkened hearts, that they might know the one and true God and find salvation in Him alone. Pray also that God would guard our peoples hearts from festering anger, that we might be sober in our response to this horrible act.
I would like to ask you to pray for me and my fellow service members as we answer the call to duty and do our part to defend our great Nation and fight the good fight for the defense of our liberty. Personally, I am on alert and could be called at any time to leave for any place in the world to take our forces to the fight and keep them flying. Please pray for all our armed forces as we follow our Commander in Chief and his orders to fight back against this grave threat to our Nation and way of life B that we would be guarded in the shadow of His wing and enabled by His strength and righteousness.
Finally, I believe that God may be using this event as a wake up call to America - to have us recognize that as a Nation, we have turned our back on God in so many ways and He is calling us back to Him. Pray for revival in our great land that the words of 2 Chronicles 7:14 might be realized: "if my people, who are called by my name, will humble themselves and pray and seek my face and turn from their wicked ways, then will I hear from heaven and will forgive their sin and will heal their land." This is perhaps the most significant possibility resulting from this event. Pray also that our leaders do not over-react and take away some of our liberties in the name of security.
I pray that God will be your strength and comfort in this difficult time for our Nation and that He would give you His God's eye view. May His love and peace fill you and your family on this day and always. God bless you and God bless America.
Under His Wings, Jason Matyas, Capt, USAF

Silliman Memorial Baptist Churches 90th Anniversary

Bridgeport, Connecticut
Members, friends and invited guests recognized the 90th Anniversary on Sunday, May 6th. Silliman continues to stand as a beacon for immigrants searching for a spiritual home. The first parishioners were Hungarian and services were conducted in Hungarian into the 1950=s. Tribute was paid to the Hungarian ancestors by having Mr. Joseph Varhidi offer the welcome and invocation in Hungarian. Decendents from the early members wore traditional garments covered with beautiful and delicate embroidery. The adult choir provided uplifting music. The Reverend Delahunt read a brief history of the church. The Reverend Lowell Fewster, the Executive Minister for ABCONN, preached the morning message and gave thanks for this church and its continued role as a home for immigrants of all nationalities. A formal Anniversary celebration will be held in November.
Dr. Fewster wrote about his experience, "It was a moving service, Including a greeting in Hungarian and the children of some of the early Hungarian members in Hungarian dress. At the close of the service, the diverse congregation, Hungarian, West Indian, West African and other Euro Americans, as is the custom after Communion, stood holding hands and sang "Bind us Together."
The Beacon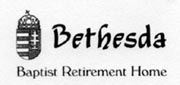 August at Bethesda
Summer at Bethesda is always hot and humid. This prevails from May through October. We do not complain about this since there is nothing that we can do about it. We adjust our activities to match the weather that God gives us. Therefore our activities in August were typical to that which we have during all of our hot months. We do most of our outside activities during the morning hours when the weather is tolerable and then we spend the rest of the day indoors where our Home is pleasantly air conditioned. Our residents are kept busy doing things for which they have the capacity. We play games, we have fellowship, we sing songs and we go out to eat and to concerts as each occasion may arise. In addition, we have our worship services and social periods to keep our residents productively busy. During the month we took our residents to one concert, four trips to the shopping mall and three dinners out. This is in addition to our other regular activities. Bethesda has a good reputation and we therefore receive free tickets to many activities that take place in our area. God ha been good to us and we in turn try desperately to be good to our people to make their days and nights pleasant and productive. We have done so for many generations. This is what our challenge ha been for many years and I feel that we have fulfilled the mission that our forefathers had in mind when our home was first created. We can be proud of our successes and we thank God for those who have served to do the needed labors and planning to make our operation one of which we can be proud of and one that holds out the word of God to His aging loved ones.
Our Home is still for sale, but as yet we cannot indicate that it has been sold. We are however in constant action to bring this about As soon as we have something positive to report to you, we will do so. In the meantime, it is business as usual for us and we request your thoughts and prayers.
Sincerely, Ernest J. Kish

Chairman of the Board

SEPTEMBER, 2001
Reflections on the 94th Convention of the
Hungarian Baptist Convention in Alhambra, California
by Ernest J. Kish
Those of us who were fortunate enough to attend the meeting of our 94th gathering in Alhambra, California, were treated to a rare gathering of Gods= people. There were over one hundred individuals in attendance from other than the west coast areas. Many of these folks were from scattered areas of our country and from overseas. It was so good to see old friends and to make new ones. At this meeting it seemed that the closeness of our Hungarian speaking people manifested itself in a very special way. We felt the old time bonding of God loving individuals in a very special way. Our brethren in California out did themselves in every way to make us feel welcome. Most of us arrived by air and were met promptly at the airport and were transported to our places of lodging. This had to be a monumental task to begin with, only to be repeated once again on our departure. Their efforts right from the very beginning set the standard that prevailed throughout our entire stay in California.
The Committee that chose the theme and the program did a stellar job of setting the topics to be presented to all of our delegates. Our theme was ARejoice in the Lord always@. Our speakers were individuals who presented topics revolving around the joys of serving our Lord and Savior. All of our speakers gave us so much to think about and to come home with and to review in the days to follow. We were fortunate to hear from a Reformed Pastor from Budapest, the Rev. Kalman Cseri. He was our main speaker and he brought the word of God to us in a very special way. We also received Gods message from the Rev. Laszlo Nemes, pastor of our Hungarian Baptist Church in Melbourne, Australia. Dr. Charles Molnar, the son of one of our founding fathers of our church in Alhambra also brought back many old time memories of developments during the start of our work in California. In addition, a number of our own pastors and lay people also added much over which to ponder. Our Ladles Conference, led by Mrs. Gabriella Olah too was very special to all of us. They presented a variety program of songs, poems and a message from Mrs. Kalman Cseri in Budapest. From breakfast through supper including a delicious outdoor picnic, the ladies of the church kept us well fed with typical Hungarian food.
I must also make mention of the professional quality of the music that was presented by the Alhambra choir and the musical combo by the young people. Pastor Novak (and Mrs. Novak too) you all have much to be proud of. As an observer of many years, I have attended most of our meetings for almost sixty five years and this last Convention reminded me of the spiritual level of so many of our past Conventions. Our time together was spent in peace and around the word of God in Christian fellowship with God loving people. We thank God for our Hungarian Baptist fellowship. May we all continue to hold fast to our faith in God and continue the work that God has laid upon our hearts.
At the conclusion of our gathering, we all partook in a service of communion. We all felt the spirit of God moving among us. The singing of ABlest be the tie@ really tied us together for the work that must be done until we will meet again. Please continue to pray for the work and challenges that lie ahead.
| | |
| --- | --- |
| | On the 94th Convention we elected Mr. Ernest J. Kish to be the Honorary President of our Convention. As you know by reading his reports, brother Kish is very active with the Home and in chairing the Financial Committee. Thank you brother Kish for faithfully serving in the Convention for many decades. (ed.) |


More than 500 convention pictures on a CD! Order the CD and / or printed color pictures.
Kovesdi Art Design Inc., 5426 Cloverly Ave. TEMPLE CITY, CA 91780
CD - $11.00/each (including postage) Group picture (8"x12") $13.00/each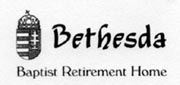 July at Bethesda
July in Florida is typically hot and humid. This year is no different. We once again had to curtail some of our outside activities because of the hot weather and rain. The rain we do not mind because we know that if we want sweet and juicy citrus, we need rain to produce it. We therefore give thanks to God for whatever comes our way. We accept the good and the not so good. We are responsible for the welfare of seventy aged people who must be fed, made comfortable and watch out for the general welfare of people who are reliant on our watchfulness. This is not always easy since each individual has a different concept of what and how he should be treated. Each of our residents have different ethnic backgrounds and have become accustomed to living within that life style. One individual may want spaghetti every day of the week while another may not want any at all. In addition, state regulations come into play and we have to pay close attention to the rules that are required to be followed to satisfy the regulations. Our operations therefore at times can become quite complex and therefore requires skilled people. Years ago, we were fairly well left on our own and we did not have to have fully trained and licensed individuals on staff. Today we must follow State guidelines in the food that we serve, in all of our activities and the care that we must provide for each of our residents. We are regulated in just about every aspect of our operation. The only aspect of our operation on which we are not regulated is our Service to our Lord. In this respect we do all we can to indicate to our residents that we love the Lord and that we invite them to join us in our praise of Him. As a result, we have periods of Bible Study for our residents as well as hymn singing and of course worship services. Many of our residents love the Lord and are happy to be in a place where they can enjoy a Christian fellowship. For this we praise the Lord.
Bethesda has been in operation for over seventy five years. For all of this time, we have operated in a manner that is Christian in deed and in concept We have been concerned about all of our residents and we have treated them fairly. At times we even had to financially subsidize some of our residents. When someone runs out of money, what do we do, but to do good to our fellow man. This is what God demands of us.
We of The Hungarian Baptist Convention can be proud of what we have done over the course of years for our aging citizens. We have a good reputation with all of our governing entities. God has been good to us and He has blessed us abundantly. We have contributed heavily to the mission programs of our Convention. Now our Home is for sale and hopefully it will be sold shortly. We are still in the process of completing our negotiations. When our negotiations have been concluded, I will so inform all of you. In the meantime, please continue us in your prayers. We still have much to do in continuing our operations and in concluding the sale.
Sincerely, Ernest J. Kish, Chairman of the Board

Baptists Send More Aid to North Korea
Imagine living on a government handout of nine ounces of rice per day. There's little food, and inadequate power and clothing to fight the sub-zero temperatures of winter. That's the daily reality for many of the people of North Korea, but Baptists from around the world are trying to help.
A partnership consisting of Hungarian Baptist Aid (HBAid), Baptist World Aid (BWAid) and the Baptist Missionary Society (BMS) of Great Britain, sent three, 40-foot containers of relief supplies, valued at US$3 million, to three orphanages and two hospitals in North Korea during the first two months of this year.
Dr. Glyn and Gillian Jones of Great Britain, and Dr. Béla and Lilla Szilágyi of Hungary, traveled to North Korea to distribute and monitor the aid, which included children's winter clothes, school materials, personal health items, medicines, medical supplies and hospital equipment.
"How we thanked God, uplifting our hearts and hands to him, for his gift," said Dr. Szilágyi. "Standing in the opened containers, we asked for God's blessing upon each and every piece of the aid, the people who gave and those who would receive," He added, "The local officials were pleased as the supplies were unloaded, and they were eager to see which institution would
receive them. Their faces especially shone when they saw the unending row of valuable medicines."
North Korean authorities granted HBAid permission to open a Baptist humanitarian office in Pyongyang, the country's capital, to organize the aid and development work of the worldwide Baptist family in North Korea, and to supervise and monitor its distribution. (BWA News)

The Lord has called Helen Nemeth to her glory on July 26, 2001. She had faithfully served the Lord throughout her entire life time. She had accepted her Lord at an early age as a member of our Hungarian Baptist Church in the city of Garfield, New Jersey. She, her husband, Louis and handicapped daughter, Joan, attended our Conventions for many many years. She was a faithful member of her church, our fellowship and her Lord. She participated in all of our activities until such a time that, because of deteriorating health, she could no longer manage her affairs. She however remained faithful to the very end.
Her pains are gone and she is now with the Lord whom she loved and served throughout her entire lifetime. "Well done thou good and faithful servant, thou has been faithful over a few things, I will make thee a ruler over many things, enter thou into the joy of the Lord."
E. J. Kish

JULY - AUGUST, 2001
| | |
| --- | --- |
| | May at Bethesda |
Each day at Bethesda is a special day that God gives us to do His will. Our people are so different, and each one is of special importance to us. With aging people, there are health problems, psychological problems, real problems and imagined problems. We have to deal with each person in a professional manner. With the help of personal physicians we follow a very rigid schedule of treatment to those in need. In so many cases however, we give loving care to indicate that we love our residents and that God loves them too. This is the difference between a Christian retirement complex such as we have and one that is interested in only the finances that are being generated. We have been indicating God=s lore for his people for many generations and have generated a reputation of caring concern with all people. For example, we have a weekly schedule of activities for our people. We take them shopping each week We take them out to concerts and dinners. We take them out for rides in the area and for ice cream treats. Then of course we have many games that we play at our Home to keep our folks active and as fit as is possible. Even with all the pluses that we give our folks, we are still the least expensive Home in our area. This of course has an affect on our occupancy rate. Most of the time we have no vacancies and most of the time we have a waiting list of people awaiting openings. God has really been good to us. So many of our residents are Christian people and they love to attend our bible studies, our prayer sessions ad our church services. It is our prayer that as long as we are involved with the Home that the love of God will reflect our care for all of our residents.
In all probability, you are all aware of the fact that our Home has been for sale for almost two years. During this period, we have shown our facility to many individuals. Many people were greatly impressed with the type of Home that we have. Many indicated great interest in the purchase but in today=s financial market money is tight, and they were unable to get proper financing. We have been working very hard to affect a sale, but without success. At the present time however we do have a prospective buyer who has a vital interest in buying the home. He too however is awaiting word from his bank on his request for financing. We will know very shortly whether he will be successful. We will advise all of you just as soon as we have more positive information to pass on to you. In the meantime, we request your prayers for the work that has to be done. It is not easy and we like all human beings, tire and become discouraged with the load that we have to carry. We have good management and good employees. We will remain faithful to the task that you have entrusted to our care. We have a good Board of Directors; please remember all of us in your prayers. God Bless. Ernest J. Kish

DR. LADISLAU BIRO

HAPPY BIRTHDAY! JUNE 2, 2001
LIFE CONTINUES AT 94! He has charted his life by the Word of God and a clear conscience. He has had one life to live and he has determined to do the best he can with the opportunities offered. He encountered two continents, and mastered the language of each. He persevered to the top in theological circles. He is a person who is respected and loved by all who know him.
He passes milestones, like the rest of us, but he never seems to grow old. He is gifted with the talent and ability to put his thoughts in a most beautiful and graceful prose. He yet finds good pleasure in his music. And he is always willing to share his talents where needed.
He is a man of uncommonly good judgment - he can weigh things out and come up with what should be done. Because of his wide background in training and personal development, he can, with his keen mind, meet each day with assurance and peace. With dignity of bearing, he lives, and moves and has his being.
He is what we used to call Aa Godly man,= which I take to mean that he is a person of integrity. If
he says it, he means it; if he promises it, he will carry it out. In our day we call him a role-model, a person to be emulated. If God says, ADo this,= he will, without question, do it. He seeks to live within the will of God. He believes what Shakespeare wrote, AThis above all: to thine own self be true. And it must follow as the night the day, Thou canst not then be false to any man.@
Dr. Biro: AMay the Lord bless you and take care of you; may the Lord be kind and gracious to you; may the Lord look on you ad give you peace.@ (Numbers 6:24-26 TEV)
Your friends at Bethesda, The Rev. Barton Brown

Bigness, parade, and show of power
This age of novelties would seem to have discovered spiritual power in brass bands and tambourines...

The tendency of the time is towards bigness, parade, and show of power...

Jesus said APreach the gospel to every creature.@ But men are getting tired of the divine plan; they are going to be saved by the priest...by the music...by theatricals...

Well, they may try these things... but nothing can ever come of the whole thing but utter disappointment and confusion. God dishonored, the gospel travestied, hypocrites manufactured by the thousands, and the church dragged down to the level of the world.
C. H. Spurgeon

GOD=S CHILDREN SHALL SUCCEED AFTER ALL!

PSALM 37
The 37th Psalm sounds more like a collection of proverbs than a song. David wrote it. He put its verses in alphabetical order. This enabled people to memorize it easier than it otherwise would have been.
AThe happy state of the godly, and the short lived prosperity of the wicked.@CIs the title of this Psalm in my King James Bible. But before we examine its content let us consider the following question:
How would you and I feel, if -in spite of being a child of God- I would be very ill, poor, and lonely while my atheist, next door neighbor would be healthy, rich and happy?
Would we wonder: How come he is healthy although he is constantly cursing God? Why did God bless him with riches, when he doesn=t even think of supporting the Lord=s work? How come he is surrounded with friends when he is really not a friendly man? And why am I so miserable, although I follow Jesus? Is it worthwhile to follow him; after all?
I assume every burdened child of God would be tempted to ask one or more of these questions at one time or another. This may even be one of the reasons why God inspired David to write the 37th Psalm. For, it provides practical advise for the downhearted Christian.
What kind of advise do we find in that Psalm? Two kinds. The first reflects on what we should not do, and the second on what we should do when the ungodly seem to be more successful than we are; and why.
What are the things we should avoid?
We should avoid becoming angry or envious because their luck will run out.
Do not fret because of evil men or be envious of those who do wrong; for like the grass they will soon wither, like green plants they will soon die away (1-2).
Refrain from anger and turn from wrath; do not fret --it leads only to evil. For evil men will be cut off... (8)
...all sinners will be destroyed; the future of the wicked will be cut off (38) (NIV.)
Then, what should we do instead? According to verses 3-7, and 34 we should:
Trust in the Lord and do good;
...delight ourselves in the Lord;
Commit our ways to the Lord...
Be still before the Lord and wait patiently for him...
Stay firm in the Lord.
Turn from evil, and do good;
Wait for the Lord, and keep his way.
...observe the upright and see that God rewards them. (NIV.)
And why should we follow these recommendations? Because that is in our best interest for, the Lord will reward us if we do.
...he will give us the desires of our heart. (4)
He will make our righteousness shine like the dawn, the justice of our cause like the noonday sun. (6)
... we will inherit the land and enjoy great peace. (11)
...we will be upheld by the Lord. 17
Our children will be blessed. 26
We will be protected forever. 28
The Lord will exalt us. 34
We will have great future. 37
The Lord will be our stronghold in trouble and will help and deliver us from the wicked and save us. 39-40
What more do we need? I think these are enough reasons to inspire us to stay away from what is wrong and do what is right without hesitation. For, it pays to follow Jesus, to serve Him, and to stay steadfast in trouble; even if the ungodly are momentarily more successful than we are. For, our rewards will follow us. The Lord will support us here and will take us to Heaven afterwards. While the ungodly will not enjoy his support on earth and afterwards will not go to Heaven; unless they repent before they die.
Let us remember the blessings which are ours during our hard days and turn away from anger and envy. Let us trust that --as children of God-- we will succeed after all. This is our Father=s promise to us.
Irma F. Matrai

European Baptist Educators Experience Israel
Baptist theological educators from Central and Eastern Europe not only learned more about the Bible, but were able to get a first-hand view of the Holy Land itself during a recent Biblical studies seminar held in Israel. ABC missionaries Cheryl and Wes Brown led the two-week session, hosted by Jerusalem University College.
"This rich experience has fulfilled a lifelong dream," said Konstanty Wiazowski, Polish theologian from Warsaw Baptist Theological Seminary. For most of the participants, reading Scripture at or near the actual site of the Biblical event (wherever possible) along with times of praise, prayer and reflection, made the seminar unforgettable.
Even though they were studying where the Prince of Peace lived, all were made painfully aware that there is little peace in this part of the world, though the group was never in any danger. Israeli soldiers would not allow the group's bus enter Bethlehem, which is under Palestinian authority, so the students had to go on foot to Bethlehem Bible College.
Bible College Dean Salim Munayer and Dr. Bishara Awad, President of the College, told the group of the stressful situation in which Palestinian Christians live. The college itself has sustained some damage from the shooting between nearby Beit Jala (a Palestinian Christian village) and Gilo (a Jewish settlement on the south side of Jerusalem). The educators also felt the emotional impact of terrorism. "As their bus drove north along the coastal highway outside Netanya," said Wes, "the southbound lanes suddenly were backed up for many kilometers because of a suicide terrorist attack an hour before that took three Israeli lives and injured 16 people." Police set up roadblocks to try and find other possible terrorists who might have been involved or were en route to another attack. A Christian in Jerusalem who was seriously wounded in another terrorist incident said that many Israelis now live in continual fear of other attacks. Innocent people suffer on both sides.
Wes added, "The educators said that they left with a better understanding of the present situation and are motivated to pray fervently for an end to violence and for the 'peace of Jerusalem.'" (International Ministries)
Making a will? Don't forget about the Convention,
our Hungarian mission.
Végrendeletet készít? Ne feledkezzen el Szövetségünkről,
az amerikai magyar baptista misszióról

BACK HOME| [CURRENT ENGLISH PAGE]
List of Previous Issues (ARCHIVE)

|SEPTEMBER 1997-AUGUST 1998 ISSUES| {EvHir-English1}

|SEPTEMBER 1998 - JUNE1999] {EvHir-English2}
[JULY1999 - DECEMBER1999] {EvHir-English3}

|YOUTH PAGE -ENGLISH CONTENT| |BACK HOME|