Monthly of the Hungarian Baptist Convention of North America
JUNE, 2001
INVITATION TO THE 94TH CONVENTION
We cordially invite you to the 94th Annual Meeting of the Hungarian Baptist Convention of North America. Place: American Hungarian Baptist Church, Alhambra, California. Time: July 13-15.
Sandor Kulcsar, President
Map to the Convention, direction and hotels
Program in English

Christ's Invitation to us

Matthew 11:28-30
"Come unto me, all who labor and are heavy laden, and I will give you rest. Take my yoke upon you, and learn from me; for I am gentle and lowly in heart, and you will find rest for your souls. For my yoke is easy, and my burden light."
All of us have seen a picture of what some artist depicts as what Christ may have looked like. All of these pictures show the image of a man with sorrowing facial features indicating a caring and compassionate individual. But, we must see Him more so with open arms inviting us to come to Him and find that vital rest of our soul which only He can impart. Now we must understand that Jesus Christ, who invites us, is standing not far away from any of us. He knows all about our problems and weaknesses. He knows those tremendous possibilities that have implanted in us. So in the midst of our disappointments, worries and frustrations, Christ sees us in our weariness and He has the power and will to give us rest.
There are today in many of us the burdens of illness, suffering and heart aches. All of these burdens are particularly heavy when we cannot see our way out. We all, quite naturally want to be free of painful circumstances. We can all identify with the Psalmist when he said, AOh that I had wings like a dove! For then would I fly away and be at rest . . . I would hasten my escape from the windy storm and tempest" (Ps 55:6-8). But often there seems to be no escape, no way out. Listen to what the Lord Jesus says to us in such an hour. "Come unto me and I will give you rest.@ He does not say that He will change your difficulties and thus deliver you from your circumstances. He wishes to give you His precious peace that you so desperately need in the midst of your difficulties. He gives rest to your soul in the face of your hardships.
Of course, our individual circumstances influences each of us. In the final analysis, the main factor is not the circumstance, but our attitude toward it. An Arabian proverb says, "The same fire that melts butter, also makes an egg hard.@ The same difficulties and sufferings can harden a man or enable him. It all depends on how we relate these trying times to our faith in Christ. Remember, "Come unto me," our Lord invites, and "I will give you rest in your difficulties." We can become conquerors over all the difficulties in our lives.
The twentieth century is an era of great change. It is an exciting time to live in. Sometime monotony and boredom seem to dominate our lives. We are kept more than busy and wish for a respite. Christ says "Come to me, I will give you something very important. I will open your eyes and show you eternal meaning in these busy days. The apostle Paul said: "Whatever you are doing, put your whole heart into it. As if you were doing it for the Lord and not for men." (Col 3:23). To serve God himself - what greater honor could one ever hope to enjoy. That brings genuine meaning and reality to our lives.
So Christ is very near to us. He puts meaning into every moment of every day. He gives forgiveness and can make us conquerors over any of our difficulties. He invites us to come to Him and to take that very important step to receive what He offers. He offers us life in its fullness. He says, "Take my yoke upon you and learn from me; for I am gentle and lowly in Heart, and you will find rest for your souls. For my yoke is easy and my burden is light." This is His invitation to us. Let us accept His call and we surely will find peace and rest.
Ernest J. Kish

ONLY SON
After a few of the usual Sunday evening hymns, the church's pastor slowly stood up, walked over to the pulpit and, before he gave his sermon for the evening, briefly introduced a guest minister who was in the service that evening. In the introduction, the pastor told the congregation that the guest minister was one of his dearest childhood friends and that he wanted him to have a few moments to greet the church and share whatever he felt would be appropriate for the service. With that, an elderly man stepped up to the pulpit and began to speak.
"A father, his son, and a friend of his son were sailing off the Pacific Coast," he began, "when a fast approaching storm blocked any attempt to get back to shore. The waves were so high, that even though the father was an experienced sailor, he could not keep the boat upright and the three were swept into the ocean as the boat capsized."
The old man hesitated for a moment, making eye contact with two teenagers who were, for the first time since the service began, looking somewhat interested in his story.
The aged minister continued with his story, "Grabbing a rescue line, the father had to make the most excruciating decision of his life: to which boy he would throw the other end of the life line. He only had seconds to make the decision. The father knew that his son was a Christian and he also knew that his son's friend was not. The agony of his decision could not be matched by the torrent of waves. "As the father yelled out, 'I love you, son!' he threw out the life line to his son's friend. By the time the father had pulled the friend back to the capsized boat, his son had disappeared beneath the raging swells into the black of night. His body was never recovered."
By this time, the two teenagers were sitting up straight in the pew, anxiously waiting for the next words to come out of the old minister's mouth. "The father," he continued, "knew his son would step into eternity with Jesus and he could not bear the thought of his son's friend stepping into an eternity without Jesus. Therefore, he sacrificed his son to save the son's friend. How great is the love of God that He should do the same for us. Our heavenly Father sacrificed His only begotten Son that we could be saved. I urge you to accept His offer to rescue you and take a hold of the life line. He is throwing out to you in this service."
With that, the old man turned and sat back down in his chair as silence filled the room. The pastor again walked slowly to the pulpit and delivered a brief sermon with an invitation at the end. However, no one responded to the appeal.
Within minutes after the service ended, the two teenagers were at the old man's side. "That was a nice story," politely started one of the boys, "but I don't think it was very realistic for a father to give up his only son's life in hopes that the other boy would become a Christian."
"Well, you've got a point there," the old man replied, glancing down at his worn Bible. A big smile broadened his narrow face, he once again looked up at the boys and said, "It sure isn't very realistic, is it? But I'm standing here today to tell you that story gives me a glimpse of what it must have been like for God to give up His Son for me. You see... I was that father and your pastor is my son's friend." (Submitted by Rev. Molnar)

Happy Fathers Day!
It is amazing how we go through different stages in our relationship with dad.
Someone has observed that at age four we say, AMy dad can do anything.@ At age seven we say, AMy dad knows a lot.@ At age 12 we say, AOh well we can=t expect dad to know everything.@
At age 14 many of us have progressed to exclaim, AMy dad is hopelessly out of date and old fashioned.@ By age 21 we say, AWhat should I expect? He just doesn=t understand.@ At age 25 we say, Dad knows a little bit but not too much.@
Then, around age 30 we begin to say, AI need to find out what dad thinks.@ At age 40 we ask, AWhat would dad have thought?@ By age 50 we say. AMy dad knew everything.@ Then, at age 60 we say, AI wish I could talk it over with dad just one more time!@

MAY, 2001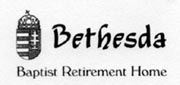 March at Bethesda
The month of March is now behind us and we have many pleasant thoughts of our activities. March is the month that our Convention holds its mid year meeting to review our past activities and formulate plans for coming events during the balance of our year. It was good to gather together as Gods people and to encourage one another for the tasks that lie ahead for each of us. We at the Home hosted almost 40 extra people. That means that we had to feed and house them for a period of four days. This was not an easy task since our Home is already running at full capacity. But where there is a will to do something, there is always a way to do it. This is especially so where the work of the Lord is involved. Even the residents of our Home enjoyed the presence of our Hungarian Baptist people. During all of our meal times and church services our residents were treated to the sounds of our beautiful old time hymns. So many of our residents joined us in singing these hymns. They sang in the English language and we sang in our own native language. In addition to our singing, our residents enjoyed the cordial fellowship of our Convention people. Our Home also hosted a river dinner cruise for our Convention workers to indicate to them grateful thanks for the many favors that we do for our residents on a daily basis.
Needless to say, our Convention workers enjoyed the cruise upon our beautiful Indian River. Our get together however was not all fun and games. We also had a lot of work to do and all of this took place during our planning sessions. At times, it is difficult for us to realize the amount of work that is involved in operating our Home and our Convention. At times, it may even be discouraging when we have to face difficult tasks. But with God=s care and guidance we do our best and leave the end results in the hands of our loving heavenly father. Please continue to pray for all those workers within our Convention who work ceaselessly and tirelessly to fulfill the tasks that you all have assigned to them. They are good people and they deserve our prayerful support.
Most of you are aware of the fact that our Homes is for sale. We have had many prospects, but few with money to invest with a not for profit motive. Up to the early part of April we had two avid buyers wanting to purchase our facility. One even provided us with a $32,000.00 down payment. Unfortunately, they were not able to obtain financing and therefore their offer was withdrawn. This left us with the second buyer with whom we are now negotiating. We have worked very hard to affect the sale of our property and we have once again placed it in God=s hands for a conclusion. Our sale has a few conditions which have to be fulfilled before a final disposition can be made. One condition is that they are to continue to operate as a Home for the aging and the second condition is that we be able to operate our chapel as a Baptist Congregation for both our Home residents and other church constituents. These conditions will be included in our sales contract. Our buyer is in agreement with these conditions.
Those of us who have been involved with Bethesda for so many years have mixed feelings on separating ourselves from something that has been so close to our hearts. We have prayed and worked hard to bring Bethesda to the acme of its long existence. Our forefathers had sacrificed so much in starting something that today is valued in the millions. I personally have been involved with our Home from its start in 1924. I have been a part of its growth and I praise God for what we as a Convention have accomplished. I feel however, that it is now time for us to turn our attention into more spiritual matters. We must therefore use our resources to bringing the word of God to people in a more productive and meaningful way. Therefore, I rest at ease in knowing that what was started with Bethesda so many years ago, will continue in bringing the word of God to all people. Please continue us in your thoughts and prayers.
Ernest J. Kish
[Click here if you want to see some pictures of Bethesda and the meetings]
[More pictures from Palm Bay.]

Missionary's Tragic Death Opens Life of Faith to World
"God is in control; He knows what is best," Roni Bowers wrote to her church family in the fall of 2000. "He doesn't owe me anything, rather I owe Him everything. When we as believers get to heaven, we won't have to ask, 'why?' It will be worth it all."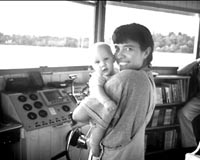 Veronica and Charity Bowers
[http://www.abwe.org/family/more-photos.htm]
[The Story of Roni Bowers: http://www.abwe.org/family/roni_story1.htm]
Less than a year later, Roni is there. And the haunting words must still echo in Jim Bowers' head. On April 20, his wife, Roni, 35, and the couple's 7-month-old adopted daughter, Charity, were killed when their missionary plane was mistakenly shot down over Peru. Jim, 37, was on board at the time, along with their 6-year-old son, Cory, but neither were hurt. The Bowers family is from Muskegon, Mich. In a written statement, Jim shares the following: "My son, Cory, and I would like to thank you for your prayers for us at this difficult time of our lives. Roni and Charity were tragically killed, and we are suffering that loss. I'm sure we will feel the loss more as time goes by. In spite of that, we still are trusting in God. "Above all, we want to honor God and honor Roni's work and ministry," Jim continues. "She enjoyed so much serving the Peruvians whom she loved.Jim says he has heard various reports surrounding the shooting down of the mission plane. "I am trusting that the publicity will eventually agree with what I know to be the truth. The pilot claims that God landed the plane; however, I want to publicly thank Kevin Donaldson for saving our lives by expertly bringing us safely to the water." Donaldson, 42, was severely wounded in both legs but managed to guide the flaming, single-engine plane into the Amazon river, according to Rev. E.C. Haskell, a spokesman for the Association of Baptists for World Evangelism (ABWE), which sponsored the mission trip. ..."God sparked an interest in my heart for missions very early," she wrote. "At the age of 13, I knew I wanted to be a missionary." While attending Piedmont Bible College in Winston-Salem, N.C., Roni attended a chapel program that changed her life. "Very early in my freshman year, a missionary challenged us to make a commitment in our dating lives. That day I made a vow to God that I would not date anyone unless he, too, wanted to be a missionary. "Eventually," she continued, "a young man named Jim Bowers asked me to go roller skating. He was raised in Brazil by godly missionary parents and was planning to be a missionary. Over the course of time we became true friends ... and on Nov. 23, 1985, I became Mrs. James A. Bowers." That summer, the couple attended ABWE's Candidate Seminar and were appointed to Iquitos, Peru as missionaries. They moved to Muskegon, Mich., and joined Calvary Church, which became their sponsoring or "sending" church. The only thing lacking for the Bowers was a child of their own. After years of infertility and numerous tests, the Bowers were told that they needed to think about adoption if they wanted children. They adopted Cory in November 1994. ...
Jim and Roni Bowers adopted Charity, their second child, in December 2000. The tragic shooting took place as the family was returning to Peru from Brazil, where they had picked up Charity's visa and passport. The infant had a temporary visa in Peru, but had to leave the country and re-enter to receive a permanent one. Latest reports indicate the United States' own plane located the missionaries for the Peruvian military, mistaking them for smugglers. The U.S. aircraft was supposed to identify drug planes for the Peruvian air force. ... the Peruvians did not take adequate steps to verify the plane's identity.
While many reports are searching for the "how" of this tragedy, the Bowers' story of faith and hope can't help but shine through. Perhaps this is Roni's ultimate missionary act: to spread the gospel with her death.
By Janet Chismar, Religion Today (excerpts)

APRIL, 2001
I CAN'T IMAGINE

by Evelyn Taylor
I CAN'T IMAGINE the cruelty involved in a crucifixion!

I can't imagine driving spikes into a person's wrists and feet, nailing him to a cross, hearing him cry out in pain, watching him die a slow death.

That is beyond my imagination.


I CAN IMAGINE pious Jewish leaders being disturbed by a young rabbi's radical message of love and compassion, which was at variance with their rigid laws.

Sometimes I too find it difficult to love those whose viewpoint differs from mine.

I usually think I am right!


I CAN IMAGINE the disciples being disillusioned that God would allow their gentle Jesus, who healed and helped people, to suffer the humiliation of a criminal's death.

I can imagine hiding, maybe even denying I knew Jesus for fear I might be the next one to be crucified.

I too have known fear!


I CAN IMAGINE the faithfulness and courage, as well as the over-whelming sorrow and anguish, of Jesus' mother keeping vigil at the foot of the cross as she and the other women wept as they watched Jesus die.

I too have been a mother!


I CAN IMAGINE Jesus crying out,
A

My God why have you forsaken me?@ and AInto your hands I commend my Spirit.@

But I can't imagine Jesus asking for forgiveness for those who were crucifying him, or telling the penitent thief he would be with him in Paradise.

Even in the midst of his suffering, he was thinking of others - he asked John to take care for his mother.

I think I would have been thinking only of my own pain!


Unless I understand who Jesus is, I CAN'T IMAGINE how his death makes possible atonement for the sins of the whole world.

But my Christian heritage has taught me: the Cross is a symbol of Christ's love, that He suffered in my place, taking upon Himself the penalty for my sins!


For that I am profoundly grateful!

Because of what He did for me, I want to praise Him, to live for Him, and do what I can to relieve the pain and suffering of others.

;
Prayer at school

Now I sit me down in schoolWhere praying is against the rule.For this great nation under GodFinds mention of Him very odd.If Scripture now the class recitesIt violates the Bill of Rights.Anytime my head I bowBecomes a federal matter now.The law is specific; the law is precise.Praying out loud is no longer nice.Praying aloud in a public hallUpsets those who believe in nothing at all.In silence alone we can meditateAnd if God should get the credit-great!They are bringing their guns;I don't dare bring my Bible,To do so, might make me liable.So, now Oh Lord, this plea I make;Should I be shot in school,My soul please take.

Written by a 12 year old girl who attends a Public School in Boston, Massachusetts

Student suspended after sharing gospel

An 18-year-old Michigan high school student has been suspended from school for an impromptu lunchtime speech to classmates about Jesus.

Pat DeRoch, a senior at Dundee High School, wanted to boost attendance at the weekly Bible study held at the school. So during lunch one day several weeks ago, he took the stage in the school=s cafeteria, invited fellow classmates to the Bible study, and spoke about the power of God=s love.

Ten minutes into the speech, however, the principal showed up and told DeRoch to get off the stage and go to the school office. Once there, school administrators told DeRoch he had violated school policy and would be suspended for a day and a half. School records state he was suspended not because of the topic of his speech, but because he spoke without first getting permission from administrators.

What surprised his mother most, however, was what the principal told her later. Lori DeRoch said, AWhat really transpired from there was pretty offensive to us, because we had gotten a call from the principal, and he had wanted my son to get a psychiatric evaluation before he could come back to school. They just suspended him for talking without getting permission.@

Mrs. DeRoch also said she was disappointed in the severity of her son=s punishment, since he received zeros in his classes for the days he missed. She said students who have had more serious run-ins with school officials do not pay as high a price.

Nevertheless, Mrs. DeRoch said her son has no regrets. ABeing a Christian, you know sometimes things don=t go your way. Pat did what he thought was right. He got suspended for it, and that=s fine. If he has to serve a suspension for doing what=s right, then that=s okay,@ she said.

Since Pat=s story was featured in several newspapers in Michigan and Ohio, he said he feels the Lord has used his speech and suspension to encourage other teenagers to take a stand for Christ.

A

A lot of churches in the area ... have been calling because they=ve heard about the story, and they=ve said they want me to come to their different youth groups,@ he said. AThey want me to start encouraging their youth. Of course, everyone at school knows about it ... it=s a big thing now, and that=s just like opening more doors [to share the gospel].@

DeRoch, who believes the Lord is calling him into the ministry, said he was not trying to be a rebel when he delivered the lunchroom speech. He said he was just trying to be obedient to God. AgapePress, 2/6/01
Churchhopping

More Americans are church-hopping. One in six attends the Church of the Revolving Door, according to the Barna Research Group. The study indicates a declining church loyalty and a "market-driven mentality" toward religious experience.

...Families say it is sometimes difficult to find a church where the husband, wife, and children all are satisfied, according to Focus on the Family. Many young people, growing up in a culture overflowing with choices, see nothing wrong with a buffet-style approach to church, but older members say that Christians need to make a choice and become committed.

...Those searching for a church say they want strong preaching, doctrinal integrity, and a congregation with a caring spirit, where they can make friends.
The Modesto Manifesto

Why God Used Billy Graham
In the late 1940s, four young men that we know today as the leaders of the Billy Graham evangelistic team met to pray and seek God=s will for their lives and ministries. They met on a farm outside Modesto, Calif., belonging to the family of Cliff Barrows, the music leader of the group. As the team fasted and prayed for God=s direction on the second day, Billy Graham the group=s leader directed each man to go off alone to pray for their future ministry. (>The four were Billy Graham, Cliff Barrows, George Beverly Shea and Grady Wilson).
The men made a composite list when they came back together, focusing on four major problems that became the basis of the Modesto Manifesto. At the end of the day, each pledged himself to a higher level of ministry than was found in other evangelistic ministries, pledging themselves to be accountable to one another and to serve and support one another.
The first thing on their list was the common misuse of the truth by evangelists. There was a common perception that evangelists exaggerated the size of crowds, the number of converts and the need of money. Each of the young men pledged himself to report the true statistics in their crusades.
The second thing on their list was money. Because evangelists were always raising money to pay for their expenses, it appeared many were in it for the money Their financial books would always be open.
The third problem that plagued evangelists was the sexual/moral issue. They agreed that they would never be alone with a member of the opposite sex. They determined to stay as far from the appearance of evil as possible.
The four men agreed the fourth problem of evangelists was a critical spirit. The four young men pledged themselves to a positive ministry; they would promote unity in the body of Christ.
The Modesto Manifesto is one foundation for the outstanding achievement of Billy Graham and his team. (Obviously, the blessing of God is the main reason that God used Billy Graham).
Dr. Elmer Towns, Liberty University

The Crowd's Attraction

(Broad Way; Matt 7:13-14)
Some time ago a scientific magazine published an article concerning a certain species of alligator. Being lazy beasts, they seldom hunt for their dinner but just wait for their unwary victims to come to them. They lie near the bank with open mouths, acting as if they are dead. Soon flies begin to light on their moist tongues, and several other insects gather. This crowd attracts bigger game. A lizard will crawl up to the alligator to feed on the bugs; then a frog joins the party. Presently a whole menagerie is there; then there is a sudden "earthquake" -- WHAM -- the giant jaws come together and the party is over!
Here's the lesson: don't be lured by large groups of people. Remember, the crowd is always found on the "broad way." The "narrow way" of life admits only individuals, one by one. Most people take the easy, downward path. You as a Christian must follow Jesus on the upward road; it is the only safe way.

BIBLE QUIZ

Lapozgassuk a bibliát helyett.

Many people qoute things as being from the Bible that are not there. Can you identify which of these quotations are from the Bible? If you get all the Bible qoutes correct, you are a good Bible student. If you can identify the sources of all twenty quotes, you are a walking encyclopedia.

Answers in the next issue.

1. The fool doth think he is wise, but the wise man knows himself to be a fool.

2. Open rebuke is better than secret love.

3. A fool and his money are soon parted.

4. Every day is a message of God.

5. No man can serve two masters.

6. A merry heart doeth good like a medicine.

7. Cast thy bread upon the waters for thou shall find it after many days.

8. It is a wise father that knows his own child.

9. The way to a mans heart is through his stomach.

10. Fair weather cometh out of the north.

11. The good deed drives away the evil deeds.

12. Can two walk together, except they be agreed?

13. Not life, but a good life, is to be chiefly valued.

14. There's a divinity that shapes our ends, rough-hew them how we will.

15. I am escaped with the skin of my teeth.

16. Let us eat and drink, for tomorrow we die.

17. A continual dropping in a very rainy day and a contentious woman are alike.

18. Make haste slowly.

19. We have left undone those things which we ought to have done, and we have done those things which we ought not to have done.

20. Weeping may endure for a night, but joy cometh in the morning.

A megfejtéseket (a tényleges igehelyeket) június végéig várja a szerkesztő.


Megfejtések - Január - Térjetek meg!


1. 2Kir 17:13; 2. Jer 25:5; 3. Ez 18:30; 4. Ez 33:11; 5. Joel 2:12; 6. Zak 1:4; 7. Mt 3:2; 8. Mk 1:15; 9. Csel 2:38; 10. Csel 3:19.

Jó megfejtést küldtek: Mezei Helen (LA), Podobni Erzsike, Kuti Anica, Jenei Mikló (Torontóiak), Gerstner Károly (NY), Jámbor Ferencné (Debrecen), Hufnágel Zsolt (Soltvadkert), Martonné Szlepák Margit (Tahi), Hegyes Lajosné (Kunfehértó)

MARCH, 2001
MAKE THIS YOUR PAYER
By the Rev. Barton A. Brown
Our Father: You are our light and our salvation. When You sent Your Son it could be said that "They who walked in darkness have seen a great light." Your word tells us, "God is light and there is no darkness at all in him." (1 John 1:5.) We look forward to the day when, through Your grace, we shall exchange our present habitation for that city of perpetual light.
We realize that there are people who do not appreciate Your light. Some of them choose to live in darkness because their deeds are evil. We have been delivered from darkness, and have come into the light and liberty of the family of God. We have been commissioned to take the light of the Gospel to those who sit in darkness and the shadow of death. HELP US TO BE FAITHFUL!
We are thankful for the assurance we have because we have come to believe in Jesus. When we came it was like coming from night to daytime. Our doubts were dispelled and our fears were alleviated. We do not claim that we are all that we should be, but we feel that we are on the right track. And the light shines more fully as we follow on to know the Lord. MAY WE NOT FALTER!
Our concern is that we may set a good example for those who cross our paths. Impress us with the importance of being true and consistent in our Christian living. To grow in grace must mean that we are careful and concerned, always considerate of the needs of others. May our egos not stand in the way of our opportunities to be Your people wherever we are.
Bless today all who are burdened with loads too heavy for their strength. Bless those who crowd our hospitals and health centers. Give wisdom to our care givers. Bless the many who are under the dark cloud of depression and anxiety. Bless those who have lived long enough to know the challenges of aging. Comfort those who have passed through the valley of sorrow. Help us to be alert to opportunities to share the struggles of others.
Forgive us our sins. We have all come short of what You expect of us. We have not always measured up to our potential. We have put ourselves first too many times. May we accept Your forgiveness with the thought that we may be better, with the help of Your Holy Spirit.
May we give serious thought to the suffering and agony of our Savior on our behalf. We cannot ever fully realize the extent of His humiliation, as He gave Himself up for the redemption of a lost creation. May we show the extent of our devotion by the lives we live to His glory.
Hear us in our prayer. Bless us. We pray in His name. Amen.

Reaching people for Christ through teaching English as a Second Language
by Ruth Wright
Many people who come to America need help in learning the English language just to survive. It is not an easy task and many give up along the way and manage with whatever they have learned. Others have persevered and have been able to go on to College and secure better employment.
I have been teaching ESL for 8 years now and find that there are so many tremendous materials available for anyone who wants to teach. There is the saying that Aif you can speak you can teach@ and that is exactly true.
Most of the teaching staff in our program are people who work in ordinary jobs and come once a week to teach English. We use a curriculum that offers reading, pronunciation, grammar, writing and conversation. This gives a good balance. For many students having an individual tutor plus a class room situation is best. Those who study beyond the classroom are more likely to succeed. There is no easy way. In fact, it is even more difficult as you get older but persistence pays off.
For me, English is a means to an end. My desire is to share Christ with these folks who come for English classes. By their coming once or twice a week on a regular basis I have the opportunity to see them continually. I always ask the Lord to help me to sense their spiritual needs and trust Him to open the door to share in His timing. Our goal has been to love each one He brings to us with the love of Christ.
It is a glorious privilege He has given to us. The world is at our doorstep and we have an opportunity to make a difference in their lives.

Songs from the AOff@ Mission Hymnal

A

I Surrender Some@

A

There Shall Be Sprinkles of Blessings@

A

Fill My Spoon, Lord@

A

Oh, How I Like Jesus@

A

He=s Quite a Bit to Me@

A

I Love To Talk About Telling the Story@

A

It Is My Secret What God Can Do@

A

There is Scattered Cloudiness in My Soul Today@

A

Where He Leads Me, I Will Consider Following@

A

Just As I Pretend To Be@

A

As the Saints Go Sneaking In@

You know you=ve joined the wrong church when...

The church bus has gun racks.

The church staff consists of senior pastor, associate pastor and socio-pastor.

The Bible version used is the

ADr. Seuss Version.@

There

=s an ATM in the lobby.

Ushers ask,

ASmoking or nonsmoking?A

Here stands
a glass
with water in it:
The optimist says, "It's half full."

The pessimist says, "It's half empty."

The idealist says, "The glass should be full."

The realist says, "The glass is useful."

The competitor says, "My glass has more in it than yours."

The environmentalist says, "Save the water."

The anarchist says, "Break the glass."

The capitalist asks. "How much is the glass worth?"

The entrepreneur asks. "Can we bottle the water?"

The efficiency expert says, "Looks like you have twice the glass you need."

The steward asks, "Is the water pure?"

Jesus

asks. "Do you want a drink?"

Baptists in Cuba
Times are changing in Cuba. Baptists there held their first public evangelistic rally in 41 years. They packed two services at a sports arena in Havana, held in conjunction with the July 3-8 Baptist World Alliance General Council meeting in Havana, according to Associated Baptist Press. ...The rallies attracted 3,000 people each evening and featured music and sermons by BWA leaders Billy Kim of Korea and Nilson Fanini of Brazil, the news agency reported. General Council members also spoke in 40 evangelistic services held in area churches. ..."This is a historic event for the Cuban people," said Victor Gonzales, general secretary of the Baptist Convention of Western Cuba. "This is the first time that all the Cuban pastors, seminaries, and missionaries are together in one meeting. It is the first time we have celebrated open meetings since revolution times." There are approximately 38,000 baptized Baptists in Cuba, the largest evangelical group in the communist nation. ReligionToday.com

FEBRUARY, 2001
Co-workers with Christ

By Ernest J. Kish
The apostle Paul writes in his second letter to the Corinthians, 6:1 "We then as workers together with Him, beseech you also that ye receive not the grace of God in vain." In the following verses he outlines the manner in which we should perform our services as God's helpers. What a privilege is conferred upon man. What dignity we have received as coworkers with God, in the 8th Psalm we read, "For thou hast made him (man) a little lower than the angels and hath crowned him with glory and honor." Here the Psalmist is writing about you and I. Make no mistake, we are God's helpers.
"He has no hands but our hands

To do His work today,

He has no feet but our feet

To lead men in His way,

He has no voice but our voice

To tell men how He died,

He has no help but our help

To lead men to His side."
Although the word of God can go out into the world through His Holy Spirit, God looks to man to do His will here on earth. God uses helping hands wherever He can find them. He has used the hands of great men and women as well as the hands of the not so great. He used the hands of Moses, Abraham, David, Solomon, the disciples and many others great and small. These are recorded for time immemorial in God's holy Bible. But God also used the hands and feet of David Livingston, Dr. Schweitzer, Billy Graham, our missionaries, our own ministers, doctors, Sunday school teachers, young people's leaders, choir directors and so many more people who help in large and small ways to spread the word of God throughout the world. God also uses you and I to enhance His presence in the communities in which we live. Large or small, He has a need for our help.

Who among us heard of Bezaleel? Exodus 31:3-4, "The Lord filled him with the spirit of God. To devise cunning works, to work in gold, silver and brass. Cutting stone, timbers and all manner of workmanship." He helped build the temple of God. He was a small unknown helper doing a great work for the Lord. There have been many small helpers throughout our own convention of churches who have done great things for the Lord. Look around you within your own church, you will find so many "unknown" people doing great work for the Lord. These are all co-workers with Christ.

It could take the hands of many people to shape the life of just one person. God creates a little child and He uses the skilled hands of a doctor to bring him into this world. He uses Christian parents to help rear that child in a Christian home. He uses a Sunday school teacher to teach that child in the ways of the Lord. Then follow the school teachers and college professors whom God uses to further the growth of that child.
God uses all workers who are willing to give of themselves to further the growth of the kingdom of God. Do we remember the two men who held up the arms of Moses when he was old and tired. How about the man who loosened the colt and took it to Jesus for use In His triumphal entry into Jerusalem. So many more examples can be cited. These were all co-workers with God.

You and I are also co-workers with God when we teach Sunday school, sing in the choir, when we serve as officers in our church, when we tithe our monies or even when we only have strength to pray. We can be the crusader for Him by carrying the cross of Christ into the battle, or we can be the quiet one who can do no more than to pray and encourage those who can do the work. The call is out to all those who will use whatever talent they may have, large or small, as "workers together with Him." God does not ask us to do things beyond our capabilities, only to use those talents which He has already gifted to us. Our efforts will be greatly rewarded, not only when we meet our Heavenly father, but also when we see our efforts gain one more soul for Christ. May God grant that we take to heart God's call for co-workers.
Antonio Stradivari, the famous violin maker of Italy stated it quite simply.

"When any master hold twixt head and chin
A violin of mine, he will be glad that Stradivari
lived, made violins, and made them of the best.
For while God gives them skill
I give the instruments to play upon.
God using me to help Him.
If my hand slacked, I should rob God.
Leaving a blank behind Instead of violins.
He could not make Antonio Stradivari violins,
Without Antonio."

The Hungarian Ministry: Church Within a Church

KELOWNA, BC., CANADA
If you=ve ever wanted to visit another church without leaving Trinity, then just visit the Hungarian Ministry in the Fellowship Room. Thirty people attend a Friday Bible study and a Wednesday service, and 60 to 100 people attend a Sunday service. The Sunday service is followed by a social time with plenty of goodies and warm smiles - this would be a great opportunity to introduce someone to a Hungarian service.
Services are held in Hungarian, but Pastor John Viczian, the pastor of the Hungarian Ministry, speaks English fluently and is happy to answer questions. (By the way, Delora Kuyvenhoven describes him as a real sweetheart with a wonderful accent.) Hungarian services started at Trinity in 1992 with about 20 people. Members are of all ages and include newcomers to Canada and those who have been here for years. The church is non-denominational, so people associated with Hungary's Catholic, Baptist, and other denominations worship side by side. Unlike many countries that were formerly behind the iron curtain, churches were tolerated in Hungary under communism.
The Hungarian Ministry's goal is to reach out to Hungarian-speaking seekers, helping them experience a life-changing relationship with Christ. Yes, it's the same vision as Trinity's -- we may speak different languages, but the message is the same.
The Hungarian Ministry will hold a Christmas program on December 24 at 3:00 p.m., most likely, in the Friendship Center. A choir will make the rounds again at Cottonwoods, much to the delight of the shut-ins.
Irene Krasznai, the church treasurer, is very grateful to Trinity for giving the Hungarian Church a place to worship.
The Hungarian Ministry requests prayer for their pastor and his wife, as well as prayer for their ministry to reach more people.
For information, contact Pastor John Viczian (250/763-7476) or Irene Krasznai (250/712-0310).
(Appeared in Trinity Baptist Monthly, November, 2000)

FEBRUARY 4, BAPTIST WORLD ALLIANCE DAY
The Baptist World Alliance, the official global fellowship of Baptists, uniting 196 Baptist conventions/unions was started in London, England, in 1905 at the first Baptist World Congress.

The BWA unites a family of more than 43 million Baptists in a worldwide community of more than 100 million to reach out in evangelism, minister to the hungry and poor, heal racism and ethnic conflict and encourage downcast, strife-torn people.

The first Sunday of February every year is Baptist World Alliance Day when Baptists recognize the larger body of Christ and pray for each other. We ask God to help those who are denied religious freedom and who suffer for their faith, and pray for the Gospel to reach the end of the earth.

JANUARY, 2001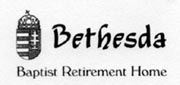 November at Bethesda

Greetings in the name of our Lord and Savior Jesus Christ. God has once again been with us during another month here at your Bethesda Retirement Home. We had been blessed and we tried to share His blessings with those aged ones who had been placed in our care. Our residents are well cared for and well fed. This makes them happy and easier to deal with. For this we are grateful. November is a month wherein we remember all of the blessings with which God bestows on us. That He has done in abundance. We had a full house of nice people to whom we were able to show God's love. We counted our blessings each day we were thankful for His care and His concerns for us. It was good to see the joy on the faces of our residents when we sat around our dinner tables to sing Count your Blessings and we gather together to ask the Lords Blessings. Gods love is still being

Apreached@ at Bethesda in a very special way. Please continue us in your prayers.

Bethesda is on the minds and in the hearts of many local people. They come into our Home to entertain our folks. They bring in candy and other items to make life pleasant for our folks. They donate many items to the Home which we sell at our yard sales which helps us to subsidize a number of our residents who have run out of money. In October and November we held two yard sales at which time we sold over $1700.00 of donated items. We are grateful to God for giving us these kind hearted friends. We are also grateful for the volunteers who help us during these sales.

We are already making plans to celebrate the birth of our Lord and Savior. There is much preparation that will be needed. Normally, we remember each of our residents with a small gift to let them know that we love them. This pays many dividends. In addition, we have thirty faithful employees who work hard all year long to keep our residents happy. We must remember each of them with a gift of money as a thank you for their good services. As is the custom at this time of year, we decorate our entry ways and our facility with lights and garlands. All of the above requires our planning and supervision. We do all of the above to indicate to all people the real reason for our celebration. It is our way of showing those people around us that the Savior of the World was born and later died for our sins so that we can have access to God eternally. Bethesda is still a Christian Home and we try to continue the message of God just as our forefathers had done for over seventy five years.

Our Home is still on the market for sale. We are still in negotiations with a number of organizations but as yet we do not have anything positive to report. You will be advised of happenings just as soon as we have something positive to report.

In the meantime, we wish each and everyone of you Gods richest blessings and much joy during these Christmas holidays. Love you all.

Ernest J. Kish
Beatitudes for Older Adults


Blessed are they who understand when I keep telling the same stories over and over.

Blessed are they who know that my ears today can't hear as once they did.

Blessed are they who seem to know that my eyes are bright, but my mind is slow.

Blessed are they who looked away and didn=t notice my wrinkles today.

Blessed are they with a cheery smile who encouraged me to try once more.

Blessed are they who never say, AYou asked me that question twice today.@

Blessed are they who know the ways and ignore the frustration which releases my tension.

Blessed are they who make me know that I'm loved, respected, and not alone.

Blessed are they who know that I'm at a loss to put my thoughts into words, I get mixed up at times.

Blessed are they who ease the days too often filled with pain and loneliness.

Blessed are they who listen, for I still have something to say.

Blessed are they who love me, just me, for what I am. Your love sustains me.

I am getting older, dear loving God, but that's all right, isn=t it?

Thank you for the years so quickly gone by.

Make me ready to see you and all my loved ones.

Getting older means that soon I can be with you. In heaven no one gets older, but stays forever young,

and always loved by you, my great and dearly loved God. Amen.
No revival in the US
Spiritual revival isn't happening in the United States, research by George Barna says. A new study of what Americans want most out of life showed they haven't changed much in the last 10 years, the Barna Research Group found.
"If spiritual revival were occurring, you'd expect to see increasing levels of interest in a relationship with God, in church involvement, and in commitment to the Christian faith," Barna said. "None of those are evident." [...]
"If teenagers were on the leading edge of altruistic living, you'd see their levels of interest in integrity, faith, and a modest lifestyle surpassing the levels of adults. We do not see that," Barna said. "And if Christians were truly focused on serving others, you'd expect to see much larger percentages of them committed to influencing other people and to making a difference in the world. That, too, is not evident." [...]
Most people said they wanted good health, meaningful personal relationships, a relationship with God, a high level of integrity, and having one spouse for life. Other desires were a clear purpose for living, satisfying sex, a comfortable lifestyle, and a good job.
ReligionToday.com
As we begin another year


As we begin another year, remember that this land

Was built by folks who gave their all and labored hand-in-hand

To build "One Nation Under God," destined to be a star,

Not unlike that of Bethlehem, which sparkled from afar.

May all our leaders once again be truthful, fair and just

And never tempted to deny, that -yes! - in God we trust.

May He be blessing all of us, the way He's always done

During this Season and beyond, in Two Thousand and One.


Stephen A. Zoldos, Santa Barbara

If you want to see pictures (101+) about the great gathering of Hungarian Baptists at Nagyvárad - MABAVIT II. - go to http://baptista.hu/evhirnok

BACK HOME| [CURRENT ENGLISH PAGE]
List of Previous Issues (ARCHIVE)

|SEPTEMBER 1997-AUGUST 1998 ISSUES| {EvHir-English1}

|SEPTEMBER 1998 - JUNE1999] {EvHir-English2}
[JULY1999 - DECEMBER1999] {EvHir-English3}

|YOUTH PAGE -ENGLISH CONTENT| |BACK HOME|